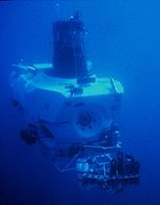 Submarine
adjective
(1) Beneath the surface of the sea
noun
(2) A submersible warship usually armed with torpedoes
(3) A large sandwich made of a long crusty roll split lengthwise and filled with meats and cheese (and tomato and onion and lettuce and condiments); different names are used in different sections of the United States
verb
(4)
Attack by submarine
"The Germans submarined the Allies"
(5) Control a submarine
(6) Bring down with a blow to the legs
(7) Throw with an underhand motion
(8)
Move forward or under in a sliding motion
"The child was injured when he submarined under the safety belt of the car"
Adjective
Of something hidden or undisclosed, e.g. submarine patent.
Noun
A boat that can go underwater.
A kind of sandwich made in a long loaf of bread.
Synonyms
U-boat
grinder
,
hero
, hoagie, hoagy,
poor boy
,
po' boy
,
sub
,
submarine sandwich
,
torpedo
,
wedge
Verb
To operate or serve on a submarine
To torpedo; to destroy with a sudden sneak attack