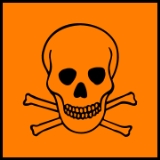 Poison
noun
(1)
Anything that harms or destroys
"The poison of fascism"
(2) Any substance that causes injury or illness or death of a living organism
verb
(3)
Administer poison to
"She poisoned her husband but he did not die"
(4)
Add poison to
"Her husband poisoned her drink in order to kill her"
(5)
Kill with poison
"She poisoned her husband"
(6)
Kill by its poison
"This mushrooms can poison"
(7)
Spoil as if by poison
"Poison someone's mind"
"Poison the atmosphere in the office"
Etymology
From < < . See also and .
Noun
Something that harms a person or thing.

Gossip is a malicious poison.

A drink; liquor.
Verb
To use poison to kill or paralyse somebody

The assassin poisoned the king.

To pollute; to cause some part of the environment to become poisonous

That factory is poisoning the river.

To cause something to become much worse

Suspicion will poison their relationship.
He poisoned the mood in the room with his non-stop criticism.