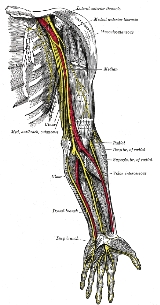 Nerve
noun
(1)
Impudent aggressiveness
"I couldn't believe her boldness"
"He had the effrontery to question my honesty"
(2)
The courage to carry on
"He kept fighting on pure spunk"
"You haven't got the heart for baseball"
(3) Any bundle of nerve fibers running to various organs and tissues of the body
verb
(4) Get ready for something difficult or unpleasant
Etymology
Recorded since circa 1374, from , from , a metathesis of pre-Latin *neuros, from Proto-Indo-European *(s)neu-; cognates include Greek (
neuros
)
Noun
Related terms
Verb
To give courage; sometimes with "up".

May their example nerve us to face the enemy.

To give strength

The liquor nerved up several of the men after their icy march.