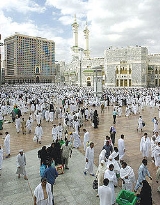 Mecca
noun
(1)
A place that attracts many visitors
"New York is a mecca for young artists"
(2) Joint capital (with Riyadh) of Saudi Arabia; located in western Saudi Arabia; as the birthplace of Muhammad it is the holiest city of Islam
Proper noun
A city in Saudi Arabia, the holiest place in Islam, location of the sacred Ka'ba, and to which Muslims are required to make a hajj at least once in their lifetime.
Noun
or
mecca
Any place considered to be a very important place to visit by people with a particular interest.
Quotations
1991, The Economist, The Economist Newspaper Ltd.

On the other side of the Atlantic, stores in Paris's chic Avenue Montaigne, a mecca for Japanese tourists, said that sales to foreigners had fallen sharply.

1997, John Romano, Muscle Meals, page 14.

Living in Venice, California and training at the Mecca of bodybuilding, Gold's Gym, I've seen some of the world's most dedicated and hard-training athletes.