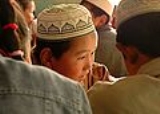 Muslim
adjective
(1)
Of or relating to or supporting Islamism
"Islamic art"
noun
(2) A believer in or follower of Islam
Etymology
From , is the stem IV participle of the
triliteral
S-L-M
"to be whole, intact". A literal translation would be "one who wants or seeks wholeness", where "wholeness" translates . In a religious sense,
Al-Islām
translates to "faith, piety", and
Muslim
to "one who has (religious) faith or piety".