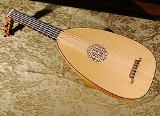 Lute
noun
(1) Chordophone consisting of a plucked instrument having a pear-shaped body, a usually bent neck, and a fretted fingerboard
(2) A substance for packing a joint or coating a porous surface to make it impervious to gas or liquid
Etymology 1
From from , probably from , from (probably representing a or North African pronunciation).
Noun
A fretted stringed instrument similar to a guitar having a bowl shaped body or soundbox.
Related terms
See also
Noun
Verb
To fix or fasten something with lute.

1888, Rudyard Kipling, 'A Friend's Friend', Plain Tales from the Hills, Folio Society 2005, p. 179:

To protect everything till it dried, a man [...] luted a big blue paper cap from a cracker, with meringue-cream, low down on Jevon's forehead.