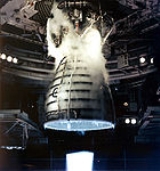 Hydrogen
noun
(1) A nonmetallic univalent element that is normally a colorless and odorless highly flammable diatomic gas; the simplest and lightest and most abundant element in the universe
Etymology
From
hydrogène
, coined by Louis-Bernard Guyton de Morveau, from + .
Noun
The lightest chemical element (symbol H) with an atomic number of 1 and atomic weight of 1.00794.
Molecular hydrogen (H2), a colourless, odourless and flammable gas at room temperature.
An atom of the element.
A sample of the element.
Related terms