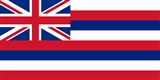 Hawaii
noun
(1) A state in the United States in the central Pacific on the Hawaiian Islands
(2) The largest and southernmost of the Hawaii islands; has several volcanic peaks
English
Etymology
From , from .
Proper noun
A state of the United States of America. The capital is Honolulu, on the island of Oahu. It is the fiftieth state to join the United States. The nickname is the Aloha State. It is located from 19° to 23° N latitude, with the eight main islands from 155° to 162° W longitude and including many smaller islands extending westward.
A chain of islands in the Pacific Ocean between North America and Oceania. Also called the Hawaiian Islands and formerly the Sandwich Islands. The larger islands are:
The proper name of the largest of the Hawaiian Islands, also called the Big Island. The Big Island lies southeast of the other islands.
Usage notes
The standard spelling in the islands is , where the indicates a
glottal stop
or phonemic glide.