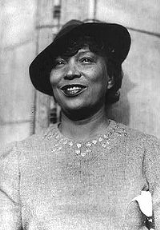 Zora Neale Hurston
Zora Neale Hurston
was an American
folklorist
Folkloristics
Folkloristics is the formal academic study of folklore. The term derives from a nineteenth century German designation of folkloristik to distinguish between folklore as the content and folkloristics as its study, much as language is distinguished from linguistics...
, anthropologist, and author during the time of the
Harlem Renaissance
Harlem Renaissance
The Harlem Renaissance was a cultural movement that spanned the 1920s and 1930s. At the time, it was known as the "New Negro Movement", named after the 1925 anthology by Alain Locke...
. Of Hurston's four novels and more than 50 published short stories, plays, and essays, she is best known for her 1937 novel
Their Eyes Were Watching God
Their Eyes Were Watching God
Their Eyes Were Watching God is a 1937 novel and the best-known work by African American writer Zora Neale Hurston. Set in central and southern Florida in the early 20th century, the novel garnered attention and controversy at the time of its publication, and has come to be regarded as a seminal...
.
Hurston was the fifth of eight children of John Hurston and Lucy Ann Hurston (née Potts). Her father was a
Baptist
Baptist
Baptists comprise a group of Christian denominations and churches that subscribe to a doctrine that baptism should be performed only for professing believers , and that it must be done by immersion...
preacher
Preacher
Preacher is a term for someone who preaches sermons or gives homilies. A preacher is distinct from a theologian by focusing on the communication rather than the development of doctrine. Others see preaching and theology as being intertwined...
,
tenant farmer
Tenant farmer
A tenant farmer is one who resides on and farms land owned by a landlord. Tenant farming is an agricultural production system in which landowners contribute their land and often a measure of operating capital and management; while tenant farmers contribute their labor along with at times varying...
, and
carpenter
Carpentry
A carpenter is a skilled craftsperson who works with timber to construct, install and maintain buildings, furniture, and other objects. The work, known as carpentry, may involve manual labor and work outdoors....
, and her mother was a school teacher. She was born in
Notasulga, Alabama
Notasulga, Alabama
Notasulga is a town in Lee and Macon Counties in the U.S. state of Alabama. As of the 2000 census, the population of the town is 916. The portion in Lee County is part of the Auburn Metropolitan Area. Author Zora Neale Hurston was born in Notasulga in 1891....
in 1891 (Jan.
Ah done been in sorrow's kitchen and Ah done licked out all de pots. Ah done died in grief and been buried in de bitter waters, and Ah done rose agin from de dead lak Lazarus.

Lucy in Jonah's Gourd Vine (1934), Ch. 6, p. 131, ISBN 0-060-91651-6
Gods always behave like the people who make them.

Tell My Horse (1938), Ch. 15, p. 219. ISBN 0-060-91649-4
I am colored but I offer nothing in the way of extenuating circumstances except the fact that I am the only Negro in the United States whose grandfather on the mother's side was not an Indian chief.

I am not tragically colored. There is no great sorrow dammed up in my soul, nor lurking behind my eyes. I do not mind at all. I do not belong to that sobbing school of Negrohood who hold that nature somehow has given them a lowdown dirty deal. Even in the helter-skelter skirmish that is my life, I have seen that the world is to the strong regardless of a little pigmentation more or less. No, I do not weep at the world — I am too busy sharpening my oyster knife.

Ships at a distance have every man's wish on board.

Ch. 1, p. 9
"Well, Ah see Mouth-Almighty is still sittin' in de same place. And Ah reckon they got me up in they mouth now.""Yes indeed. You know if you pass some people and don't speak tuh suit 'em dey got tuh go way back in yo' life and see whut you ever done. They know mo' 'bout yuh than you do yo' self. They done 'heard' 'bout you just what they hope done happened.""If God don't think no mo' 'bout 'em than Ah do, they's a lost ball in de high grass."

Janie and Phoeby, Ch. 1, p. 16
There are years that ask questions and years that answer.

Ch. 3, p. 38
Of course he wasn't dead. He could never be dead until she herself had finished feeling and thinking. The kiss of his memory made pictures of love and light against the wall. Here was peace. She pulled in her horizon like a great fish-net. Pulled it from around the waist of the world and draped it over her shoulder. So much of life in its meshes! She called in her soul to come and see.

Ch. 20, p. 193 :ISBN 0-060-92168-4