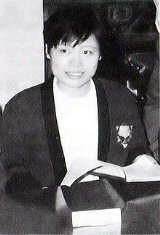 Xie Jun
Xie Jun
is a
chess
Chess
Chess is a two-player board game played on a chessboard, a square-checkered board with 64 squares arranged in an eight-by-eight grid. It is one of the world's most popular games, played by millions of people worldwide at home, in clubs, online, by correspondence, and in tournaments.Each player...
grandmaster from China. She had two reigns as
Women's World Chess Champion
Women's World Chess Championship
The Women's World Chess Championship is played to determine the women's world champion in chess. Like the World Chess Championship, it is administered by FIDE....
, from 1991 to 1996 and again from 1999 to 2001. Xie is only the second woman to have two reigns, the other being
Elisabeth Bykova
Elisabeth Bykova
Elisaveta Ivanovna Bykova was a Soviet chess player and the third and fifth Women's World Chess Champion, from 1953 until 1956, and again from 1958 to 1962.In 1938 she won the women's Moscow championship and after the second world war she was a...
.
In 1991, Xie became China's second Grandmaster, after
Ye Rongguang
Ye Rongguang
Ye Rongguang is a retired Chinese chess Grandmaster, who in 1990, became the first ever Chinese player to gain the Grandmaster title. He was for more than ten years the coach of women's world chess champion Zhu Chen...
. Xie Jun is married to her former coach GM
Wu Shaobin
Wu Shaobin
Wu Shaobin is a Singaporean Grandmaster chess player. He won the national Singaporean Chess Championship in 2003 and 2005. He is married to former Women's World Chess Champion Xie Jun....
.
Career
At the age of six Xie began to play Chinese chess, and by the age of 10 she had become the girls'
Xiangqi
Xiangqi
Xiangqi is a two-player Chinese board game in the same family as Western chess, chaturanga, shogi, Indian chess and janggi. The present-day form of Xiangqi originated in China and is therefore commonly called Chinese chess in English. Xiangqi is one of the most popular board games in China...
champion of Beijing. At the urging of government authorities, she soon began playing international chess. Despite indifferent training opportunities, Xie became the Chinese girls' chess champion in 1984. In 1988 she tied for second–fourth places at the women's world junior championship.
At the age of 20 Xie won the right to challenge for the women's world title, and in 1991 she defeated Maya Chiburdanidze of Georgia, who had held the title since 1978, by a score of 8½–6½. In 1993 she successfully defended her title against
Nana Ioseliani
Nana Ioseliani
Nana Mikhailovna Ioseliani is a Georgian woman chess player. She has held the FIDE Woman Grandmaster title since 1980, and the International Master title since 1993....
(winning the match 8½–2½). She lost the title to
Susan Polgar
Susan Polgar
Susan Polgar is a Hungarian-American chess Grandmaster...
of Hungary in 1996 (8½–4½) but regained the title in 1999 by defeating another championship finalist,
Alisa Galliamova
Alisa Galliamova
Alisa Galliamova is a Russian chess player, who was born to Russian father and Tatar mother. She holds the FIDE titles Woman Grandmaster and International Master. In 1988 she won the World Junior Girls Chess Championship...
(8½–6½), after Polgar refused to accept match conditions and forfeited her title. In 2000,
FIDE
Fédération Internationale des Échecs
The Fédération Internationale des Échecs or World Chess Federation is an international organization that connects the various national chess federations around the world and acts as the governing body of international chess competition. It is usually referred to as FIDE , its French acronym.FIDE...
changed the format of the world championship to a knock-out system, and Xie won the title again, beating fellow Chinese player
Qin Kanying
Qin Kanying
Qin Kanying is a Chinese chess player. She is a FIDE Woman Grandmaster. She is married to GM Peng Xiaomin, who is also her trainer. She won the Chinese Chess Championship five times: in 1988, 1991, 1995, 1999 and 2004.-External links:...
2½–1½ in the final.
In
Guangzhou
Guangzhou
Guangzhou , known historically as Canton or Kwangchow, is the capital and largest city of the Guangdong province in the People's Republic of China. Located in southern China on the Pearl River, about north-northwest of Hong Kong, Guangzhou is a key national transportation hub and trading port...
in April 2000, Women's Champion Xie played a match with former World Champion
Anatoly Karpov
Anatoly Karpov
Anatoly Yevgenyevich Karpov is a Russian chess grandmaster and former World Champion. He was the official world champion from 1975 to 1985 when he was defeated by Garry Kasparov. He played three matches against Kasparov for the title from 1986 to 1990, before becoming FIDE World Champion once...
.
Billed as a "female vs. male chess contest", the match consisted of four games at normal time controls and two rapid games. The four-game portion was won by Karpov 2½–1½ (1 win, 3 draws), and the rapid-play portion also went to Karpov, 1½–½ (1 win, 1 draw).
A hero in China, Xie became widely known for her optimism and vivid attacking style. Her success did much to popularize international chess in her
country
People's Republic of China
China , officially the People's Republic of China , is the most populous country in the world, with over 1.3 billion citizens. Located in East Asia, the country covers approximately 9.6 million square kilometres...
and the rest of Asia. Xie Jun proved to be the first of a number of strong Chinese women players, the others being
Zhu Chen
Zhu Chen
Zhu Chen is a chess Grandmaster. In 2001, she became China's second women's world chess champion after Xie Jun, and China's 13th Grandmaster.She today plays for Qatar.-Biography:...
, Xu Yuhua, and
Wang Lei
Wang Lei (chess player)
Wang Lei is a Chinese chess Woman Grandmaster. She was in the FIDE Top 50 Women rating list from 2000 to 2003. Her highest position was 5th in the world on October 2001. Her peak rating was 2512 in October 2001...
. She was also an important factor in the Chinese women's team winning the gold medal at the 1998
Chess Olympiad
Chess Olympiad
The Chess Olympiad is a biennial chess tournament in which teams from all over the world compete against each other. The event is organised by FIDE, which selects the host nation.-Birth of the Olympiad:The first Olympiad was unofficial...
in
Elista
Elista
-Twin towns/sister cities:Elista is twinned with the following sister cities. Howell, New Jersey, United States Lhasa, Tibet, China. Ulan-Ude, Buryat Republic, Russia-See also:*Geden Sheddup Choikorling Monastery*Burkhan Bakshin Altan Sume-External links:...
in
Kalmykia
Kalmykia
The Republic of Kalmykia is a federal subject of Russia . Population: It is the only Buddhist region in Europe. It has also become well-known as an international chess mecca because its former President, Kirsan Ilyumzhinov, is the head of the International Chess Federation .-Geography:*Area:...
, Russia.
Among women, Xie has been the number 2 or number 3 highest rated woman for much of her career.
Judit Polgár
Judit Polgár
Judit Polgár is a Hungarian chess grandmaster. She is by far the strongest female chess player in history. In 1991, Polgár achieved the title of Grandmaster at the age of 15 years and 4 months, the youngest person ever to do so at that time.Polgár was ranked No...
, the top-ranked woman, does not play women-only chess events.
Around the end of the 1990s, Xie was reading for a
doctorate
Doctorate
A doctorate is an academic degree or professional degree that in most countries refers to a class of degrees which qualify the holder to teach in a specific field, A doctorate is an academic degree or professional degree that in most countries refers to a class of degrees which qualify the holder...
in
psychology
Psychology
Psychology is the study of the mind and behavior. Its immediate goal is to understand individuals and groups by both establishing general principles and researching specific cases. For many, the ultimate goal of psychology is to benefit society...
at
Beijing Normal University
Beijing Normal University
Beijing Normal University , colloqiually known as 北师大 or Beishida, is a public research university located in Beijing with strong emphasis on basic disciplines of humanities and sciences...
. Xie Jun now spends most of her present time working as an official at the Beijing Sports Commission, taking care of chess players and other sports people.
In July 2004, she gained the titles of
International Arbiter
International Arbiter
In chess, International Arbiter is a title awarded by FIDE to individuals deemed capable of acting as arbiter in important chess matches . The title was established in 1951....
and FIDE Senior Trainer.
Further reading
— is an annotated collection of many of the world champion's games along with some biographical information.— contains a collection of interviews with many notable chess players.
External links