Workshop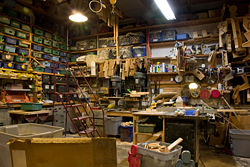 A
workshop
is a room or
building
Building
In architecture, construction, engineering, real estate development and technology the word building may refer to one of the following:...
which provides both the area and
tool
Tool
A tool is a device that can be used to produce an item or achieve a task, but that is not consumed in the process. Informally the word is also used to describe a procedure or process with a specific purpose. Tools that are used in particular fields or activities may have different designations such...
s (or
machine
Machine
A machine manages power to accomplish a task, examples include, a mechanical system, a computing system, an electronic system, and a molecular machine. In common usage, the meaning is that of a device having parts that perform or assist in performing any type of work...
ry) that may be required for the manufacture or repair of
manufactured
Manufacturing
Manufacturing is the use of machines, tools and labor to produce goods for use or sale. The term may refer to a range of human activity, from handicraft to high tech, but is most commonly applied to industrial production, in which raw materials are transformed into finished goods on a large scale...
goods. Apart from the larger
factories
Factory
A factory or manufacturing plant is an industrial building where laborers manufacture goods or supervise machines processing one product into another. Most modern factories have large warehouses or warehouse-like facilities that contain heavy equipment used for assembly line production...
, workshops were the only places of
production
Mass production
Mass production is the production of large amounts of standardized products, including and especially on assembly lines...
in the days before
industrialisation
Industrialisation
Industrialization is the process of social and economic change that transforms a human group from an agrarian society into an industrial one...
.
Backshop
Some repair industries, such as the
locomotive
Locomotive
A locomotive is a railway vehicle that provides the motive power for a train. The word originates from the Latin loco – "from a place", ablative of locus, "place" + Medieval Latin motivus, "causing motion", and is a shortened form of the term locomotive engine, first used in the early 19th...
and
aircraft
Aircraft
An aircraft is a vehicle that is able to fly by gaining support from the air, or, in general, the atmosphere of a planet. An aircraft counters the force of gravity by using either static lift or by using the dynamic lift of an airfoil, or in a few cases the downward thrust from jet engines.Although...
repair operations have specialized workshops called backshops. For example,
calibration
Calibration
Calibration is a comparison between measurements – one of known magnitude or correctness made or set with one device and another measurement made in as similar a way as possible with a second device....
and repair of
United States Air Force
United States Air Force
The United States Air Force is the aerial warfare service branch of the United States Armed Forces and one of the American uniformed services. Initially part of the United States Army, the USAF was formed as a separate branch of the military on September 18, 1947 under the National Security Act of...
test equipment
Electronic test equipment
Electronic test equipment is used to create signals and capture responses from electronic Devices Under Test . In this way, the proper operation of the DUT can be proven or faults in the device can be traced and repaired...
is conducted at shops known as
precision measurement equipment laboratories
Precision Measurement Equipment Laboratory
A Precision Measurement Equipment Laboratory is a United States Air Force facility in which the calibration and repair of test equipment takes place. This practice is also known as metrology: the science of measurement...
.
Most repair works are carried out in small workshops, except where an industrial service is needed
External links