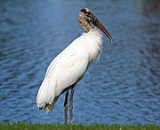 Wood Stork
The
Wood Stork
is a large
American
Americas
The Americas, or America , are lands in the Western hemisphere, also known as the New World. In English, the plural form the Americas is often used to refer to the landmasses of North America and South America with their associated islands and regions, while the singular form America is primarily...
wading
bird
Bird
Birds are feathered, winged, bipedal, endothermic , egg-laying, vertebrate animals. Around 10,000 living species and 188 families makes them the most speciose class of tetrapod vertebrates. They inhabit ecosystems across the globe, from the Arctic to the Antarctic. Extant birds range in size from...
in the
stork
Ciconiiformes
Traditionally, the order Ciconiiformes has included a variety of large, long-legged wading birds with large bills: storks, herons, egrets, ibises, spoonbills, and several others. Ciconiiformes are known from the Late Eocene...
family
Family (biology)
In biological classification, family is* a taxonomic rank. Other well-known ranks are life, domain, kingdom, phylum, class, order, genus, and species, with family fitting between order and genus. As for the other well-known ranks, there is the option of an immediately lower rank, indicated by the...
Ciconiidae. It was formerly called the
"Wood Ibis"
, though it is not really an
ibis
Ibis
The ibises are a group of long-legged wading birds in the family Threskiornithidae....
.
The adult is a large bird 83–115 cm (33–45 in) tall and 140–180 cm (58–71 in) in wingspan. Males typically weigh 2.5–3.3 kg (5.5-7.3 lbs); females weigh 2.0–2.8 kg (4.4-6.2 lbs), although large birds are up to 4.5 kg (10 lbs).