 Withdrawal (military)
For other meanings, see Withdrawal (disambiguation)

Withdrawal (disambiguation)

Withdrawal may refer to:* Social withdrawal* Withdrawal from addiction* Withdrawal * Withdrawal reflex* Coitus interruptus * Money...


.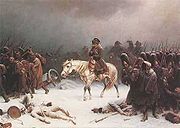 A
withdrawal
is a type of
military operation
Military operation
Military operation is the coordinated military actions of a state in response to a developing situation. These actions are designed as a military plan to resolve the situation in the state's favor. Operations may be of combat or non-combat types, and are referred to by a code name for the purpose...
, generally meaning retreating forces back while maintaining contact with the enemy. A withdrawal may be undertaken as part of a general retreat, to consolidate forces, to occupy ground that is more easily defended, or to lead the enemy into an
ambush
Ambush
An ambush is a long-established military tactic, in which the aggressors take advantage of concealment and the element of surprise to attack an unsuspecting enemy from concealed positions, such as among dense underbrush or behind hilltops...
. It is considered a relatively risky operation, requiring discipline to keep from turning into a disorganized
rout
Rout
A rout is commonly defined as a chaotic and disorderly retreat or withdrawal of troops from a battlefield, resulting in the victory of the opposing party, or following defeat, a collapse of discipline, or poor morale. A routed army often degenerates into a sense of "every man for himself" as the...
.
Tactical withdrawal
A withdrawal may be anticipated, as when a defending force is outmatched or on disadvantageous ground, but must cause as much damage to an enemy as possible. In such a case, the retreating force may employ a number of tactics and strategies to further impede the enemy's progress. This could include setting mines or booby traps during or before withdrawal, leading the enemy into prepared
artillery
Artillery
Originally applied to any group of infantry primarily armed with projectile weapons, artillery has over time become limited in meaning to refer only to those engines of war that operate by projection of munitions far beyond the range of effect of personal weapons...
barrages, or the use of
scorched earth
Scorched earth
A scorched earth policy is a military strategy or operational method which involves destroying anything that might be useful to the enemy while advancing through or withdrawing from an area...
tactics.
Rout
In
ancient warfare
Ancient warfare
Ancient warfare is war as conducted from the beginnings of recorded history to the end of the ancient period. In Europe and the Near East, the end of antiquity is often equated with the fall of Rome in 476, and the wars of the Eastern Roman Empire Byzantium in its South Western Asian and North...
, the main goal of an army was demoralizing an enemy and routing them from the battlefield. Once a force had become disorganized, losing its ability to fight, the victors could chase down the remnants and attempt to cause as many casualties or take as many prisoners as possible. Undisciplined troops could not be prevented from breaking ranks and chasing the routed enemy, making themselves completely vulnerable to
counterattack
Counterattack
A counterattack is a tactic used in response against an attack. The term originates in military strategy. The general objective is to negate or thwart the advantage gained by the enemy in attack and the specific objectives are usually to regain lost ground or to destroy attacking enemy units.It is...
by a reserve force. Thus there was value in a
feigned
retreat.
Feigned retreat
The act of feigning a withdrawal or rout in order to lure an enemy away from a defended position or into a prepared ambush is an ancient tactic, and has been used throughout the history of warfare. Ancient
Mongols
Mongols
Mongols ) are a Central-East Asian ethnic group that lives mainly in the countries of Mongolia, China, and Russia. In China, ethnic Mongols can be found mainly in the central north region of China such as Inner Mongolia...
were famed for, among other things, their extensive use of feigned retreats during their conquests, as their fast, light
cavalry
Cavalry
Cavalry or horsemen were soldiers or warriors who fought mounted on horseback. Cavalry were historically the third oldest and the most mobile of the combat arms...
made successful pursuit by an enemy almost impossible. William the Conqueror infamously used a feigned retreat during the
Battle of Hastings
Battle of Hastings
The Battle of Hastings occurred on 14 October 1066 during the Norman conquest of England, between the Norman-French army of Duke William II of Normandy and the English army under King Harold II...
to lure much of Harold's infantry from their advantageous defenses on higher ground, at which point they were annihilated by a charge of William's Norman cavalry.
Mongol feigned retreat
In the heat and middle of a battle, the Mongol army would pretend to be defeated, exhausted, and confused, and would suddenly retreat from the battlefield. The opposing force, thinking they had routed the Mongols, would give chase. The Mongol cavalry would, while retreating, fire upon the pursuers, disheartening them. When the pursuing forces stopped chasing the (significantly faster) Mongol cavalry, the cavalry would then turn and charge the pursuers, generally succeeding. This was used partly as a
divide and conquer
Divide and conquer
Divide and conquer may refer to:* Divide and rule, in politics, sociology and economics, a strategy to gain or maintain power...
tactic to allow the Mongols to defeat larger armies by breaking them down into smaller groups.
Occupied withdrawal
Withdrawal of a
military occupation
Military occupation
Military occupation occurs when the control and authority over a territory passes to a hostile army. The territory then becomes occupied territory.-Military occupation and the laws of war:...
is anticipated and therefore tactical but may be subject to political rather than operational variables. The purpose of 'Troop withdrawal' from occupied territories may not involve engagement with an enemy and may be conducted during a period of ceasefire or relative peace as in the cases of
Palestine
Palestine
Palestine is a conventional name, among others, used to describe the geographic region between the Mediterranean Sea and the Jordan River, and various adjoining lands....
.