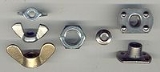 Wingnut (hardware)
A
wingnut
or
wing nut
is a type of
nut
Nut (hardware)
A nut is a type of hardware fastener with a threaded hole. Nuts are almost always used opposite a mating bolt to fasten a stack of parts together. The two partners are kept together by a combination of their threads' friction, a slight stretch of the bolt, and compression of the parts...
with two large metal "wings," one on each side, so it can be easily tightened and loosened by hand without tools. It is sometimes called a
thumbscrew
Thumbscrew
The thumbscrews or pilliwinks is a torture instrument which was first used in medieval Europe. It is a simple vice, sometimes with protruding studs on the interior surfaces. The victim's thumbs or fingers were placed in the vice and slowly crushed. The thumbscrew was also applied to crush...
.
Bicycles
Before the development of
quick release skewer
Quick release skewer
A quick release skewer is a mechanism for attaching a wheel to a bicycle. It consists of a rod threaded on one end and with a lever operated cam assembly on the other. The rod is inserted into the hollow axle of the wheel, a nut is threaded on, and the lever is closed to tighten the cam and secure...
s,
bicycle wheel
Bicycle wheel
A bicycle wheel is a wheel, most commonly a wire wheel, designed for bicycle. A pair is often called a wheelset, especially in the context of ready built "off the shelf" performance-oriented wheels....
s were held in place with wingnuts.