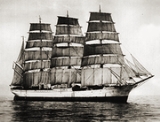 Windjammer
A
windjammer
is the ultimate type of large sailing ship with an
iron
Iron
Iron is a chemical element with the symbol Fe and atomic number 26. It is a metal in the first transition series. It is the most common element forming the planet Earth as a whole, forming much of Earth's outer and inner core. It is the fourth most common element in the Earth's crust...
or for the most part
steel
Steel
Steel is an alloy that consists mostly of iron and has a carbon content between 0.2% and 2.1% by weight, depending on the grade. Carbon is the most common alloying material for iron, but various other alloying elements are used, such as manganese, chromium, vanadium, and tungsten...
hull
Hull (watercraft)
A hull is the watertight body of a ship or boat. Above the hull is the superstructure and/or deckhouse, where present. The line where the hull meets the water surface is called the waterline.The structure of the hull varies depending on the vessel type...
, built to carry cargo in the late nineteenth and early twentieth century. Windjammers were the grandest of merchant sailing ships, with between three and five large
masts
Mast (sailing)
The mast of a sailing vessel is a tall, vertical, or near vertical, spar, or arrangement of spars, which supports the sails. Large ships have several masts, with the size and configuration depending on the style of ship...
and
square sails
Square rig
Square rig is a generic type of sail and rigging arrangement in which the primary driving sails are carried on horizontal spars which are perpendicular, or square, to the keel of the vessel and to the masts. These spars are called yards and their tips, beyond the last stay, are called the yardarms...
, giving them a characteristic profile.
The windjammers were cargo ships designed for ultra-long voyages. They usually carried bulk cargo, such as lumber, guano, grain or ore from one continent to another, usually following the prevailing winds and circumnavigating the globe during their voyages.