 William Musgrave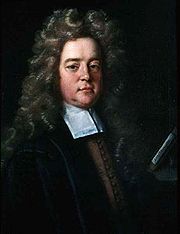 William Musgrave
physician and antiquary. He was educated at
Winchester College
Winchester College
Winchester College is an independent school for boys in the British public school tradition, situated in Winchester, Hampshire, the former capital of England. It has existed in its present location for over 600 years and claims the longest unbroken history of any school in England...
and
New College, Oxford
New College, Oxford
New College is one of the constituent colleges of the University of Oxford in the United Kingdom.- Overview :The College's official name, College of St Mary, is the same as that of the older Oriel College; hence, it has been referred to as the "New College of St Mary", and is now almost always...
, where he was a fellow from 1677 to 1692. In 1680 he spent a brief period at the University of Leiden.
He was elected to the
Royal Society
Royal Society
The Royal Society of London for Improving Natural Knowledge, known simply as the Royal Society, is a learned society for science, and is possibly the oldest such society in existence. Founded in November 1660, it was granted a Royal Charter by King Charles II as the "Royal Society of London"...
in 1684, for his work in natural philosophy and medicine. During 1685 he acted as secretary to the society and edited the Philosophical Transactions nos. 167 to 178.
He was a member of the Philosophical Society of Oxford, where he practised medicine and was awarded an M.D. on 6 July 1689. In 1692 he was elected to the
Royal College of Physicians
Royal College of Physicians
The Royal College of Physicians of London was founded in 1518 as the College of Physicians by royal charter of King Henry VIII in 1518 - the first medical institution in England to receive a royal charter...
in London. He later settled in
Exeter
Exeter
Exeter is a historic city in Devon, England. It lies within the ceremonial county of Devon, of which it is the county town as well as the home of Devon County Council. Currently the administrative area has the status of a non-metropolitan district, and is therefore under the administration of the...
, where he practised until his death.
His writings on medical matters included lacteals,
palsy
Palsy
In medicine, palsy is the paralysis of a body part, often accompanied by loss of sensation and by uncontrolled body movements, such as shaking. Medical conditions involving palsy include cerebral palsy , brachial palsy , and Bell's palsy ....
, and respiration. His important medical works concerned
arthritis
Arthritis
Arthritis is a form of joint disorder that involves inflammation of one or more joints....
and its effects. His publication
De arthritide symptomatica
(2nd edn, 1715) included the first scientific description of 'Devonshire colic' (later referred to by John Huxham and George Baker). His other writings included
Antiquitates Britanno-Belgicae
a study of Roman Hampshire, Wiltshire and Somerset - areas previously inhabited by the
Belgae
Belgae
The Belgae were a group of tribes living in northern Gaul, on the west bank of the Rhine, in the 3rd century BC, and later also in Britain, and possibly even Ireland...
.
George I
George I of Great Britain
George I was King of Great Britain and Ireland from 1 August 1714 until his death, and ruler of the Duchy and Electorate of Brunswick-Lüneburg in the Holy Roman Empire from 1698....
presented Musgrave with a diamond ring for this work.