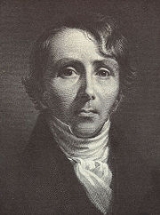 William Ellery Channing
Dr.
William Ellery Channing
(April 7, 1780 – October 2, 1842) was the foremost
Unitarian
Unitarianism
Unitarianism is a Christian theological movement, named for its understanding of God as one person, in direct contrast to Trinitarianism which defines God as three persons coexisting consubstantially as one in being....
preacher in the
United States
United States
The United States of America is a federal constitutional republic comprising fifty states and a federal district...
in the early nineteenth century and, along with
Andrews Norton
Andrews Norton
Andrews Norton was an American preacher and theologian. Along with William Ellery Channing, he was the leader of mainstream Unitarianism of the early and middle 19th century....
, one of Unitarianism's leading theologians. He was known for his articulate and impassioned sermons and public speeches, and as a prominent thinker in the liberal theology of the day. Dr. Channing's religion and thought were among the chief influences on the
New England
New England
New England is a region in the northeastern corner of the United States consisting of the six states of Maine, New Hampshire, Vermont, Massachusetts, Rhode Island, and Connecticut...
Transcendentalists, though he never countenanced their views, which he saw as extreme.
Channing was born in
Newport, Rhode Island
Newport, Rhode Island
Newport is a city on Aquidneck Island in Newport County, Rhode Island, United States, about south of Providence. Known as a New England summer resort and for the famous Newport Mansions, it is the home of Salve Regina University and Naval Station Newport which houses the United States Naval War...
, a grandson of
William Ellery
, a signer of the
United States Declaration of Independence
United States Declaration of Independence
The Declaration of Independence was a statement adopted by the Continental Congress on July 4, 1776, which announced that the thirteen American colonies then at war with Great Britain regarded themselves as independent states, and no longer a part of the British Empire. John Adams put forth a...
.
We honor revelation too highly to make it the antagonist of reason, or to believe that it calls us to renounce our highest powers.

"Unitarian Christianity", an address to The First Independent Church of Baltimore (5 May 1819)
The office of government is not to confer happiness, but to give men opportunity to work out happiness for themselves.

Review of The Life of Napoleon Bonaparte (1827) by Sir Walter Scott, in the Christian Examiner (September - October 1827)
I see the marks of God in the heavens and the earth, but how much more in a liberal intellect, in magnanimity, in unconquerable rectitude, in a philanthropy which forgives every wrong, and which never despairs of the cause of Christ and human virtue. I do and I must reverence human nature... I thank God that my own lot is bound up with that of the human race.

"Likeness to God", an address in Providence, Rhode Island (1828)
There are seasons, in human affairs, of inward and outward revolution, when new depths seem to be broken up in the soul, when new wants are unfolded in multitudes, and a new and undefined good is thirsted for. There are periods when...to dare, is the highest wisdom.

The Union (1829)