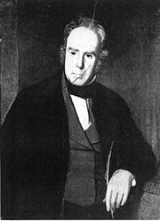 William Carleton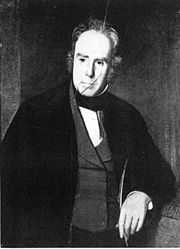 William Carleton
was an
Irish
Ireland
Ireland is an island to the northwest of continental Europe. It is the third-largest island in Europe and the twentieth-largest island on Earth...
novelist.
Carleton's father was a Roman Catholic tenant farmer, who supported fourteen children on as many acres, and young Carleton passed his early life among scenes similar to those he later described in his books. His father had an extraordinary memory and a thorough acquaintance with Irish folklore; the mother was noted throughout the district for her lovely voice. The character of Honor, the miser's wife, in
Fardorougha
, is said to be based on her.
Carleton received a basic education. As his father moved from one small farm to another, he attended various hedge schools, which used to be a notable feature of Irish life. A picture of one of these schools occurs in the sketch called "The Hedge School" included in
Traits and Stories of Irish Peasantry
. Most of his learning was gained from a curate, Father Keenan, who taught a classical school at Donagh (
County Monaghan
County Monaghan
County Monaghan is a county in Ireland. It is part of the Border Region and is also located in the province of Ulster. It is named after the town of Monaghan. Monaghan County Council is the local authority for the county...
) which Carleton attended from 1814 to 1816. Before this Carleton had hoped to obtain an education as a poor scholar at
Munster
Munster
Munster is one of the Provinces of Ireland situated in the south of Ireland. In Ancient Ireland, it was one of the fifths ruled by a "king of over-kings" . Following the Norman invasion of Ireland, the ancient kingdoms were shired into a number of counties for administrative and judicial purposes...
, with a view to entering the church; but in obedience to a warning dream, the story of which is told in the
Poor Scholar
, he returned home, where he was admired by the neighbouring peasantry for his supposed learning. An amusing account of this period is given in the sketch, "Denis O'Shaughnessy".
Aged about nineteen, he undertook one of the religious pilgrimages then common in Ireland. His experiences as a pilgrim, narrated in "The Lough Derg Pilgrim," made him give up the thought of entering the church, and he eventually became a Protestant. His vacillating ideas as to a mode of life were determined by reading the picaresque novel
Gil Blas
Gil Blas
Gil Blas is a picaresque novel by Alain-René Lesage published between 1715 and 1735. It is considered to be the last masterpiece of the picaresque genre.-Plot summary:...
(by
Alain-René Lesage
Alain-René Lesage
Alain-René Lesage was a French novelist and playwright. Lesage is best known for his comic novel The Devil upon Two Sticks , his comedy Turcaret , and his picaresque novel Gil Blas .-Youth and education:Claude Lesage, the father of the novelist, held the united...
, 1668-1747). He decided to try what fortune had in store for him. He went to Killanny,
County Louth
County Louth
County Louth is a county of Ireland. It is part of the Border Region and is also located in the province of Leinster. It is named after the town of Louth. Louth County Council is the local authority for the county...
. For six months he served as tutor to the family of a farmer named Piers Murphy. After some other experiments he set out for
Dublin
, arriving with two shillings and sixpence in his pocket.
He first sought occupation as a bird-stuffer, but a proposal to use potatoes and meal as stuffing failed to recommend him. He then tried to become a soldier, but the colonel of the regiment dissuaded him—Carleton had applied in
Latin
Latin
Latin is an Italic language originally spoken in Latium and Ancient Rome. It, along with most European languages, is a descendant of the ancient Proto-Indo-European language. Although it is considered a dead language, a number of scholars and members of the Christian clergy speak it fluently, and...
. He obtained some teaching and a clerkship in a
Sunday School
Sunday school
Sunday school is the generic name for many different types of religious education pursued on Sundays by various denominations.-England:The first Sunday school may have been opened in 1751 in St. Mary's Church, Nottingham. Another early start was made by Hannah Ball, a native of High Wycombe in...
office, began to contribute to journals, and "The Pilgrimage to Lough Derg," which was published in the
Christian Examiner
, attracted great attention. In 1830 appeared the first series of
Traits and Stories of the Irish Peasantry
(2 vols.), which immediately placed Carleton in the first rank of Irish novelists. A second series (3 vols.), containing, among other stories, "Tubber Derg, or the Red Well", appeared in 1833, and
Tales of Ireland
in 1834. From that time till within a few years of his death he wrote constantly. "Fardorougha the Miser, or the Convicts of Lisnamona" appeared in 1837-1838 in the
Dublin University Magazine
Dublin University Magazine
The Dublin University Magazine was an independent literary cultural and political magazine published in Dublin from 1833 to 1882. It started out as a magazine of political commentary but increasingly became devoted to literature.-Early days:...
.
Among his other novels are:
Valentine McClutchy, the Irish Agent, or Chronicles of the Castle Cumber Property (3 vols., 1845)
The Black Prophet, a Tale of Irish Famine, in the Dublin University Magazine (1846), printed separately in the next year
The Emigrants of Ahadarra (1847)
Willy Reilly and his dear Cooleen Bawn (in The Independent, London, 1850)
The Tithe Proctor (1849), the violence of which did his reputation harm among his own countrymen.
Some of his later stories,
The Squanders of Castle Squander
(1852) for instance, are spoiled by the mass of political matter in them. In spite of his considerable literary production, Carleton remained poor, but his necessities were relieved in 1848 by a pension of £200 a year granted by
Lord John Russell
John Russell, 1st Earl Russell
John Russell, 1st Earl Russell, KG, GCMG, PC , known as Lord John Russell before 1861, was an English Whig and Liberal politician who served twice as Prime Minister of the United Kingdom in the mid-19th century....
in response to a memorial on Carleton's behalf signed by numbers of distinguished persons in Ireland. He died at Sandford, County Dublin, and is interred at
Mount Jerome Cemetery
Mount Jerome Cemetery
Mount Jerome Cemetery is situated in Harold's Cross on the south side of Dublin, Ireland. Since its foundation in 1836, it has witnessed over 300,000 burials...
, Harold's Cross, Dublin.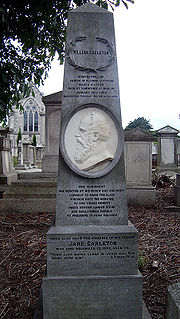 Reputation
Carleton alienated the sympathies of many Irishmen, however, by his unsparing criticism and occasional exaggeration of the darker side of Irish character. He was in his own words the "historian of their habits and manners, their feelings, their prejudices, their superstitions and their crimes" (Preface to
Tales of Ireland
).
A second factor that alienated him from many of his Irish countrymen was his attitude towards the Catholic religion. It has been argued (for example by Brian Donnelly) that his conversion may have been a pragmatic move, as it would have been difficult for an aspiring young Catholic author to receive the degree of patronage necessary to achieve success. However, this argument fails since, in 1826, Carleton wrote a letter to then
Home Secretary Sir
Robert Peel
Robert Peel
Sir Robert Peel, 2nd Baronet was a British Conservative statesman who served as Prime Minister of the United Kingdom from 10 December 1834 to 8 April 1835, and again from 30 August 1841 to 29 June 1846...
urging him against
Catholic Emancipation
Catholic Emancipation
Catholic emancipation or Catholic relief was a process in Great Britain and Ireland in the late 18th century and early 19th century which involved reducing and removing many of the restrictions on Roman Catholics which had been introduced by the Act of Uniformity, the Test Acts and the penal laws...
(Peel was already an outspoken opponent), and offering to provide proof of the involvement of
Daniel O'Connell
Daniel O'Connell
Daniel O'Connell Daniel O'Connell Daniel O'Connell (6 August 1775 – 15 May 1847; often referred to as The Liberator, or The Emancipator, was an Irish political leader in the first half of the 19th century...
in agrarian crimes, while also vilifying the Catholic clergy and Roman Catholic schoolteachers. Shortly afterwards he befriended Caesar Orway, according to W. B. Yeats, an "anti-papal controversialist" who encouraged him to write stories to "highlight...the corrupt practices of an ignorant clergy."
During the last months of his life Carleton began an
autobiography
Autobiography
An autobiography is a book about the life of a person, written by that person.-Origin of the term:...
which he brought down to the beginning of his literary career. This forms the first part of
The Life of William Carleton ...
(2 vols., 1896), by
David James O'Donoghue
David James O'Donoghue
David James O'Donoghue was an Irish biographer and editor. He attended a Catholic school and furthered his own education at the British Museum. He began his journalistic work by writing for the Dublin papers upon subjects relating to Irish music, art, and literature...
, which contains full information about his life, and a list of his scattered writings. A selection from his stories (1889), in the "Camelot Series", has an introduction by
William Butler Yeats
William Butler Yeats
William Butler Yeats was an Irish poet and playwright, and one of the foremost figures of 20th century literature. A pillar of both the Irish and British literary establishments, in his later years he served as an Irish Senator for two terms...
.
Carleton is featured in the long poem
Station Island
Station Island (poetry)
Station Island is a collection of poems written by Irish Nobel laureate Seamus Heaney.The title refers to Station Island in Donegal, Ireland, a famous site of pilgrimage from the Middle Ages to the present day...
by
Séamus Heaney
Seamus Heaney
Seamus Heaney is an Irish poet, writer and lecturer. He lives in Dublin. Heaney has received the Nobel Prize in Literature , the Golden Wreath of Poetry , T. S. Eliot Prize and two Whitbread prizes...
.
External links
In 2005, a play based on several of Carleton's short stories premiered in the United States. Tales of a Public House: An Evening of Ghosts, Murder, & Wild Imaginings was written by John Dandola.