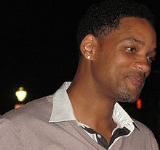 Will Smith
Willard Christopher
"
Will
"
Smith, Jr.
(born September 25, 1968), also known by his
stage name
Stage name
A stage name, also called a showbiz name or screen name, is a pseudonym used by performers and entertainers such as actors, wrestlers, comedians, and musicians.-Motivation to use a stage name:...
The Fresh Prince
, is an American
actor
Actor
An actor is a person who acts in a dramatic production and who works in film, television, theatre, or radio in that capacity...
, producer, and rapper. He has enjoyed success in television, film and music. In April 2007,
Newsweek
Newsweek
Newsweek is an American weekly news magazine published in New York City. It is distributed throughout the United States and internationally. It is the second-largest news weekly magazine in the U.S., having trailed Time in circulation and advertising revenue for most of its existence...
called him the most powerful actor in Hollywood. Smith has been nominated for four
Golden Globe Award
Golden Globe Award
The Golden Globe Award is an accolade bestowed by the 93 members of the Hollywood Foreign Press Association recognizing excellence in film and television, both domestic and foreign...
s, two Academy Awards, and has won multiple
Grammy Award
Grammy Award
A Grammy Award — or Grammy — is an accolade by the National Academy of Recording Arts and Sciences of the United States to recognize outstanding achievement in the music industry...
s.
In the late 1980s, Smith achieved modest fame as a rapper under the name
The Fresh Prince
DJ Jazzy Jeff & the Fresh Prince
DJ Jazzy Jeff & The Fresh Prince is a hip hop duo from West Philadelphia, Pennsylvania. Vocalist Will Smith met Jeff Townes while trying to make a name for himself in West Philadelphia's local hip hop scene. After joining forces with Clarence Holmes the team members became local celebrities...
.
It's great to be black in Hollywood. When a black actor does something, it seems new and different just by virtue of the fact that he's black.

"Will Smith" article in Halliwell's Who's Who in the Movies (2001 edition), p. 406
I feel like I could run for President. People often laugh, but if I set my mind to it, within the next 15 years I could be in the White House.

"Will Smith" article in Halliwell's Who's Who in the Movies (2001 edition), p. 406