 Wilhelm Hauff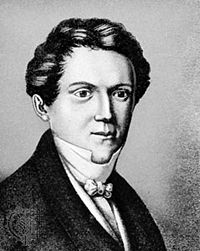 Wilhelm Hauff
was a German
poet
Poet
A poet is a person who writes poetry. A poet's work can be literal, meaning that his work is derived from a specific event, or metaphorical, meaning that his work can take on many meanings and forms. Poets have existed since antiquity, in nearly all languages, and have produced works that vary...
and novelist.
Early life
Hauff was born in
Stuttgart
Stuttgart
Stuttgart is the capital of the state of Baden-Württemberg in southern Germany. The sixth-largest city in Germany, Stuttgart has a population of 600,038 while the metropolitan area has a population of 5.3 million ....
, the son of August Friedrich Hauff, a secretary in the ministry of foreign affairs, and Hedwig Wilhelmine Elsaesser Hauff. He was the second of four children.
Young Hauff lost his father when he was seven years old, and his early education was practically self-gained in the library of his maternal grandfather at
Tübingen
Tübingen
Tübingen is a traditional university town in central Baden-Württemberg, Germany. It is situated south of the state capital, Stuttgart, on a ridge between the Neckar and Ammer rivers.-Geography:...
, where his mother had moved after the death of her husband. In 1818 he was sent to the Klosterschule at
Blaubeuren
Blaubeuren
Blaubeuren is a town in the district of Alb-Donau near Ulm in Baden-Württemberg, Germany.It has 11.963 inhabitants as of December 2007.-Coat of arms:...
, and in 1820 began to study at the University of Tübingen. In four years he completed his philosophical and theological studies at the
Tübinger Stift
Tübinger Stift
The Tübinger Stift is a hall of residence and teaching; it is owned and supported by the Evangelical-Lutheran Church in Württemberg, and located in the university city of Tübingen, in South West Germany. The Stift was originally founded as an Augustinian monastery in the Middle Ages...
.
Writings
On leaving the university, Hauff became tutor to the children of the famous Württemberg minister of war, General Baron Ernst Eugen von Hugel (1774–1849), and for them wrote his
Märchen
(fairy tales), which he published in his
Märchen almanach auf das Jahr 1826
(
Fairytale Almanac of 1826
). Some of these stories are very popular in German-speaking countries to this day, such as
Der kleine Muck
(
The Story of Little Muck
),
Kalif Storch
(
Caliph Stork
) and
Die Geschichte von dem Gespensterschiff
(
The Tale of the Ghost Ship
) — all set in the
Orient
Orient
The Orient means "the East." It is a traditional designation for anything that belongs to the Eastern world or the Far East, in relation to Europe. In English it is a metonym that means various parts of Asia.- Derivation :...
and
Der Zwerg Nase
(
Little Longnose
),
Das kalte Herz
(
The Cold Heart
) and
Das Wirtshaus im Spessart
(
The Inn in the Spessart
), set in Germany.
While there, he also wrote the first part of the
Mitteilungen aus den Memoiren des Satan
(1826;
Memoirs of Beelzebub
) and
Der Mann im Mond
(1825;
The Man in the Moon
). The latter, a parody of the sentimental and sensual novels of Heinrich Clauren (the pseudonym of Carl Gottlieb Samuel Heun, 1771–1854), became in the course of composition, a close imitation of that author's style and was actually published under his name. As a result, Clauren brought and won an action for damages against Hauff, whereupon Hauff followed up the attack in his witty and sarcastic
Kontroverspredigt über H. Clauren und den Mann im Mond
(1826) and attained his original object: the moral annihilation of the mawkish and unhealthy literature with which Clauren was flooding the country.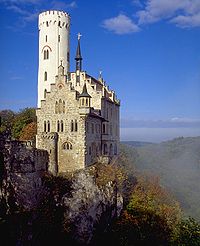 Meanwhile, inspired by Sir Walter Scott's novels, Hauff wrote the historical romance
Lichtenstein: Romantische Sage aus der wuerttembergischen Geschichte
Lichtenstein (novel)
Lichtenstein is a historical novel by Wilhelm Hauff, first published in 1826, the year before his early death. Set in and around Württemberg, it is considered his greatest literary success next to his fairy-tales, and, together with the work of the almost forgotten Benedikte Naubert, represents the...
(1826;
Lichtenstein: Romantic Saga from the History of Württemberg
), which became hugely popular in Germany and especially in
Swabia
Swabia
Swabia is a cultural, historic and linguistic region in southwestern Germany.-Geography:Like many cultural regions of Europe, Swabia's borders are not clearly defined...
, treating as it did the most interesting period in the history of that country, the reign of Duke Ulrich (1487–1550). This novel was the inspiration for Duke Ulrich's heir,
Duke Wilhelm of Urach
Wilhelm, 1st Duke of Urach
Count Friedrich Wilhelm Alexander Ferdinand of Württemberg, 1st Duke of Urach , was the son of Duke Wilhelm of Württemberg , younger brother of King Frederick I of Württemberg, by his morganatic wife, Baroness Wilhelmine von Tunderfeldt-Rhodis , who had married in 1800...
, to rebuild the
castle
Lichtenstein Castle
Lichtenstein Castle is situated on a cliff located near Honau in the Swabian Alb, Baden-Württemberg, Germany.Historically there has been a castle on the site since around 1200. It was twice destroyed, once in the Reichskriegs war of 1311 and again by the city-state of Reutlingen in 1381...
, which had fallen into disrepair, in accordance with Hauff's description.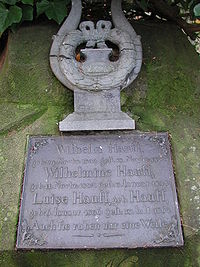 While on a journey to
France
France
The French Republic , The French Republic , The French Republic , (commonly known as France , is a unitary semi-presidential republic in Western Europe with several overseas territories and islands located on other continents and in the Indian, Pacific, and Atlantic oceans. Metropolitan France...
, the
Netherlands
Netherlands
The Netherlands is a constituent country of the Kingdom of the Netherlands, located mainly in North-West Europe and with several islands in the Caribbean. Mainland Netherlands borders the North Sea to the north and west, Belgium to the south, and Germany to the east, and shares maritime borders...
, and northern Germany he wrote the second part of the
Memoiren des Satan
and some short novels, among them the charming
Die Bettlerin vom Pont des Arts
(1826;
The True Lover's Fortune; or, the Beggar of the Pont des Arts
) and his masterpiece, the novella
Phantasien im Bremer Ratskeller
(1827;
The Wine-Ghosts of Bremen
). He also published some short poems, which have passed into
Volkslieder
Lied
is a German word literally meaning "song", usually used to describe romantic songs setting German poems of reasonably high literary aspirations, especially during the nineteenth century, beginning with Carl Loewe, Heinrich Marschner, and Franz Schubert and culminating with Hugo Wolf...
, among them "Morgenrot, Morgenrot, leuchtest mir zum frühen Tod?" ("Dawn's light, you are lighting my way to early death") and "Steh ich in finstrer Mitternacht" ("I stand in the darkest midnight"). The novella Jud Süß was published in 1827.
In January 1827, Hauff undertook the editorship of the
Stuttgart Morgenblatt
and in the following month married his cousin Luise Hauff, but his happiness was prematurely cut short by his death from fever on 18 November 1827.
Editions
His
Sämtliche Werke
(Collected works), with a biography, edited by
Gustav Schwab
Gustav Schwab
Gustav Benjamin Schwab was a German writer, pastor and publisher.-Life:Gustav Schwab was born in Stuttgart, the son of a professor and was introduced to the humanities early in life...
were published in 3 volumes 1830–1834, and 5 volumes (18th ed.) in 1882. They were also published by Felix Bobertag 1891–1897. A selection from his works was published by M. Mendheim (3 vols, 1891).
Legacy
Considering his brief life, Hauff was an extraordinarily prolific writer. The freshness and originality of his talent, his inventiveness, and his genial humour have won him a high place among the southern German prose writers of the early nineteenth century.
See also
Little Longnose

Little Longnose

Little Longnose is a Russian traditionally-animated feature film directed by Ilya Maksimov, made by Melnitsa Animation Studio. It opened in Russia on March 20, 2003, and had 375,000 admissions during its theatrical run...


, a 2003 Russian animated feature based on one of his stories.
Geschichte vom kleinen Muck

Geschichte vom kleinen Muck

Die Geschichte vom Kleinen Muck is a 1953 feature film directed by Wolfgang Staudte, adapted from the 19th century fairy tale written by Wilhelm Hauff.-Plot:...


, a 1953 film.
External links
Works by or about Wilhelm Hauff at Internet Archive

Internet Archive

The Internet Archive is a non-profit digital library with the stated mission of "universal access to all knowledge". It offers permanent storage and access to collections of digitized materials, including websites, music, moving images, and nearly 3 million public domain books. The Internet Archive...


(scanned books original editions color illustrated) (plain text and HTML)