 Wianki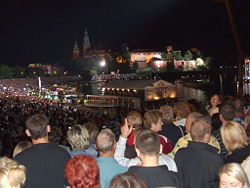 Wianki
is a cyclical cultural event, taking place annually in
Kraków
Kraków
Kraków also Krakow, or Cracow , is the second largest and one of the oldest cities in Poland. Situated on the Vistula River in the Lesser Poland region, the city dates back to the 7th century. Kraków has traditionally been one of the leading centres of Polish academic, cultural, and artistic life...
at the bend of Wisła river, near the
Wawel
Wawel
Wawel is an architectural complex erected over many centuries atop a limestone outcrop on the left bank of the Vistula River in Kraków, Poland, at an altitude of 228 metres above the sea level. It is a place of great significance to the Polish people. The Royal Castle with an armoury and the...
hill.
History
In its current form of a mass cultural event, Wianki has existed since 1992, when the patronage of this event was taken over by the Kraków City Hall. However, the tradition of organising cultural events at this spot during the summer solstice reaches back a long time. The festival was primarily a pagan religious event -
Noc Kupały
Ivan Kupala Day
Kupala Day is celebrated in Poland, Russia, Belarus and Ukraine currently on the night of 6/7 July in the Gregorian or New Style calendar, which is 23/24 June in the Julian or Old Style calendar still used by many Orthodox Churches. Calendar-wise, it is opposite to the winter solstice holiday...
. After the adoption of Christianity by Poland, the tradition did not die, hoverver, its context was changed: the night's name became "Sobótka", or "Noc Świętojańska" (
St. John's Night
). Some elements of the original festival remained, such as telling fortunes, letting wreaths float on water, jumping over bonfires or burning herbs. When Polish territory was annexed by Austria, especially after Kraków was incorporated into the Austro-Hungarian state,
Wianki
became a patriotic manifestation, when Wanda, the legendary princess from the legend of Prince Krak (the founder of Kraków) was commemorated. Before
World War I
World War I
World War I , which was predominantly called the World War or the Great War from its occurrence until 1939, and the First World War or World War I thereafter, was a major war centred in Europe that began on 28 July 1914 and lasted until 11 November 1918...
Wianki
was organised by institutions such as Polskie Towarzystwo Gimnastyczne "Sokół" ("Sokół" Polish Gymnastic Society).
After
World War II
World War II
World War II, or the Second World War , was a global conflict lasting from 1939 to 1945, involving most of the world's nations—including all of the great powers—eventually forming two opposing military alliances: the Allies and the Axis...
Wreaths
became a "light and sound" event - a large-scale open-air performance The event was partly a dramatic show (which featured theatre plays) and a finale firework show. In the 1970s media patronage was unknown in Poland, but
Gazeta Krakowska
Gazeta Krakowska
The Gazeta Krakowska, is the largest regional daily newspaper in Kraków, Poland, published five times a week in that city. Gazeta Krakowska was established on February 15, 1949...
performed a form of it over the festival.
After
martial law
Martial law
Martial law is the imposition of military rule by military authorities over designated regions on an emergency basis— only temporary—when the civilian government or civilian authorities fail to function effectively , when there are extensive riots and protests, or when the disobedience of the law...
was introduced in 1981,
Wreaths
were not officially organised until 1992. Starting that year, the event is the largest annual cultural event, covering music and other performances, a competition for the most beautiful wreath, firework shows and other attractions
Music performers during the show (starting 2000)
2000 - Brathanki

BRAThANKI

BRAThANKI is a popular Polish folk-rock group. They combine Polish, Hungarian and Czech folk elements with rock music.-Albums:* Ano! POL: 4x platinum; POL #5* Patataj POL: platinum; POL #3* Galoop POL #39-Members:...


, Maanam

Maanam

Maanam is a popular Polish rock band, formed by Marek Jackowski, Kora and Milo Kurtis in 1976. Originally an acoustic outfit, the band went electric in 1980, and since then has recorded some of the best-selling singles and albums in Poland over the past 25 years.During the first half of the...



2001 - the event was cancelled due to heavy rainfalls
2002 - Myslovitz

Myslovitz

Myslovitz is a Polish rock band, whose music incorporates elements of college rock, shoegazing, and, arguably, Britpop. Since 2003, EMI Group has been attempting to establish them internationally, with considerable support from MTV Europe...


, Renata Przemyk

Renata Przemyk

Renata Przemyk is Polish singer and song writer. In Bielsko-Biała she attended primary and secondary school. She enjoyed her childhood together with her parents, grandmother and brothers...



2003 - Kayah

Kayah

Kayah may refer to:* Kayah State, a state of Myanmar.* Kayah people, a Sino-Tibetan people.* Kayah language* Kayah , Polish singer....



2004 - De Mono, Reni Jusis

Reni Jusis

Reni Jusis is a female Polish pop singer, songwriter and producer. At first, Jusis recorded R&B music, which evolved into electronic dance style in later albums. After ten years of career she recorded piano pop music.- Beginnings :Reni Jusis began performing on stage early as a child...


, show dance "OPENTANIEC"
2005 - Budka Suflera

Budka Suflera

Budka Suflera is a Polish rock band which was started in 1969 in Lublin by Krzysztof Cugowski, and, after disbanding soon thereafter, resurrected by Cugowski and Romuald Lipko in 1974 and active to this day...


, Krystyna Prońko, Izabela Trojanowska

Izabela Trojanowska

Izabela Trojanowska is a Polish singer and film actress.- Career :Trojanowska rose to fame in 1980, backed with popular Polish rock band Budka Suflera, when she sang "Wszystko czego dziś chcę" at National Festival of Polish Song in Opole...


, Patrycja Gola, Felicjan Andrzejczak, Sebastian Riedel
2006 - Polish performers: Krzysztof Kiljański, T.Love

T.Love

T.Love is a Polish rock band formed in 1982, originally known as Teenage Love Alternative, by Zygmunt "Muniek" Staszczyk, Janusz Konorowski, Dariusz Zając and Jacek Wudecki, all friends from high school in Częstochowa....


, Lech Janerka

Lech Janerka

Lech Janerka is a Polish songwriter, vocalist and bassist. In the 1980s he was leader of a notable Polish post-punk/new wave band called Klaus Mitffoch, based in Wrocław.- Discography :...


. International performers: Marillion

Marillion

Marillion are a British rock band, formed in Aylesbury, England in 1979. Their recorded studio output comprises sixteen albums generally regarded in two distinct eras, delineated by the departure of original vocalist & frontman Fish in late 1988, and the subsequent arrival of replacement Steve...


, Lou Bega

Lou Bega

David Lubega , also known as Lou Bega, is a German musician of Italian and Ugandan descent, and is famous for his song "Mambo No. 5 ". This song is a remake of the Perez Prado instrumental from 1949...



2007 - Polish performers: Daab

Daab (reggae band)

Daab is a Polish reggae band. They were previously named Daab - Muzyka serc .- History :The band was founded in December 1982 in Warsaw by Dariusz Gierszewski/dr./, Andrzej Zeńczewski/voc.,g./, Artur Miłoszewski/b./ and Piotr Strojnowski/voc.,g./. In few months the band took two other artists:...


, Lombard

Lombard (band)

-Band line-up:* Grzegorz Stróżniak: Keyboards, vocals, lead * Marta Cugier: Vocals * Daniel Patalas: Guitar * Michał Kwapisz: Bass guitar * Mirosław Kamiński: Drums -Discography:...


, Mr. Zoob, Róże Europy, Wanda i Banda. International performers: Alphaville

Alphaville (band)

Alphaville is a German synthpop group which gained popularity in the 1980s. The founding members were Marian Gold , Bernhard Lloyd , and Frank Mertens Alphaville is a German synthpop group which gained popularity in the 1980s. The founding members were Marian Gold (real name Hartwig Schierbaum,...


, Bananarama

Bananarama

Bananarama are an English female pop duo who have had success on the pop and dance charts since 1982. Rather than relying on a two part harmony, the duo generally sings in unison, as do their background vocalists. Although there have been line-up changes, the group enjoyed their most popular...


, Desireless

Desireless

Desireless is a French singer. Between 1986 and 1988, her hit single "Voyage Voyage" made it to number one in many European and Asian single charts and sold over five million copies.-Albums:* François #29 France* I love you...


, Gazebo

Gazebo

A gazebo is a pavilion structure, sometimes octagonal, that may be built, in parks, gardens, and spacious public areas. Gazebos are freestanding or attached to a garden wall, roofed, and open on all sides; they provide shade, shelter, ornamental features in a landscape, and a place to rest...



2008 - Jamiroquai

Jamiroquai

Jamiroquai is a British jazz funk and acid jazz band formed in 1992. Jamiroquai were initially the most prominent component in the early-1990s London-based acid jazz movement, alongside groups such as Incognito, the James Taylor Quartet, and the Brand New Heavies. Other Acid Jazz artists such as...


, Mosqitoo, June, Loco Star
2009 - The Poise Rite, Wilki

Wilki

Wilki are a Polish Alternative rock/Pop rock band from Warsaw. They, along with their contemporaries Myslovitz, are one of Poland's most popular rock bands....


, Vavamuffin

Vavamuffin

Vavamuffin is a Polish raggamuffin, roots reggae and dancehall band from Warsaw. They were formed in 2003 and have released four albums under the label Karrot Kommando. The band members are Pablopavo, Reggaenerator, Gorg, Emili Jones, Jahcob Junior, Raffi Kazan, Mothashipp, Dubbist and Barton...


, Patrycja Markowska, Lenny Kravitz

Lenny Kravitz

Leonard Albert "Lenny" Kravitz is an American singer-songwriter, multi-instrumentalist, record producer and arranger, whose "retro" style incorporates elements of rock, soul, R&B, funk, reggae, hard rock, psychedelic, folk and ballads...



External links