 Westpark (Munich)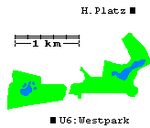 The
Westpark
is a large urban public park in
Munich
Munich
Munich The city's motto is "" . Before 2006, it was "Weltstadt mit Herz" . Its native name, , is derived from the Old High German Munichen, meaning "by the monks' place". The city's name derives from the monks of the Benedictine order who founded the city; hence the monk depicted on the city's coat...
,
Germany
Germany
Germany , officially the Federal Republic of Germany , is a federal parliamentary republic in Europe. The country consists of 16 states while the capital and largest city is Berlin. Germany covers an area of 357,021 km2 and has a largely temperate seasonal climate...
. It was designed by landscape architect Peter Kluska and completed in 1983. It hosted the fourth International Garden Show (IGA 83) that same year. The park covers an area of 720,000 m² (178 acres) extending 2 km from east to west. Garmischer Straße divides the park into an eastern and western section.
Rose garden
The rose garden is made up of more than 20,000
rose
Rose
A rose is a woody perennial of the genus Rosa, within the family Rosaceae. There are over 100 species. They form a group of erect shrubs, and climbing or trailing plants, with stems that are often armed with sharp prickles. Flowers are large and showy, in colours ranging from white through yellows...
s and 500 different rose species. There also is a popular beer garden.
Lake stage
The western lake features a stage area (
Seebühne
) hosting open air movie screenings, live music and theater shows during the summer season.
Little Asia
The
Klein-Asien
(Little Asia) ensemble consists of a Chinese garden, a Japanese garden, a Thai
sala
Sala (architecture)
A Sala , also known as a sala Thai, is an open pavilion, used as a meeting place and to protect people from sun and rain. Most are open on all four sides. They are found throughout Thailand in Buddhist temple areas, or Wats, although they can also be located in other places. A person who builds a...
and a
pagoda
Pagoda
A pagoda is the general term in the English language for a tiered tower with multiple eaves common in Nepal, India, China, Japan, Korea, Vietnam and other parts of Asia. Some pagodas are used as Taoist houses of worship. Most pagodas were built to have a religious function, most commonly Buddhist,...
which was constructed by 200 Nepalese craftsmen.
Mollsee
Mollsee is an artificial lake situated in the eastern section of the park. It frequently attracts model boat enthusiasts.