 Wedding photography

Wedding photography
is the
photography
Photography
Photography is the art, science and practice of creating durable images by recording light or other electromagnetic radiation, either electronically by means of an image sensor or chemically by means of a light-sensitive material such as photographic film...
of activities relating to
wedding
Wedding
A wedding is the ceremony in which two people are united in marriage or a similar institution. Wedding traditions and customs vary greatly between cultures, ethnic groups, religions, countries, and social classes...
s. It encompasses photographs of the couple before marriage (for announcements, portrait displays, or thank you cards) as well as coverage of the wedding and
reception
Wedding reception
A wedding reception is a party held after the completion of a marriage ceremony. It is held usually as hospitality for those who have attended the wedding, hence the name reception: the couple receives society, in the form of family and friends, for the first time as a married couple. Hosts...
(sometimes referred to as the wedding breakfast in non-US countries). It is a major commercial endeavor that supports the bulk of the efforts for many photography studios or independent photographers.
Like the technology of photography itself, the practice of wedding photography has evolved and grown since the invention of the photographic art form in 1826 by
Joseph Nicéphore Niépce
Nicéphore Niépce
Nicéphore Niépce March 7, 1765 – July 5, 1833) was a French inventor, most noted as one of the inventors of photography and a pioneer in the field.He is most noted for producing the world's first known photograph in 1825...
. In fact, an early photograph, recorded some 14 years after the fact, may be a recreation for the camera of the 1840 wedding of Queen Victoria to Prince Albert. However, in the early days of photography, most couples of more humble means did not hire a photographer to record the actual wedding itself. Until the later half of the 19th century, most people didn't pose for formal wedding photos during the wedding. Rather, they might pose for a formal photo in their best clothes before or after a wedding. In the late 1860s, more couples started posing in their wedding clothes or sometimes hired a photographer to come to the wedding venue.
(See the gallery at White wedding.)
Due to the nature of the bulky equipment and lighting issues, wedding photography was largely a studio practice for most of the late 19th century. Over time, technology improved, but many couples still might only pose for a single wedding portrait. Wedding albums started becoming more commonplace towards the 1880s, and the photographer would sometimes include the wedding party in the photographs. Often the wedding gifts would be laid out and recorded in the photographs as well.
At the beginning of the 20th century, color photography became available, but was still unreliable and expensive, so most wedding photography was still practiced in black and white. The concept of capturing the wedding "event" came about after the Second World War. Using film roll technology and improved lighting techniques available with the invention of the compact flash bulb, photographers would often show up at a wedding and try to sell the photos later. Despite the initial low quality photographs that often resulted, the competition forced the studio photographers to start working on location.
Initially, professional studio photographers might bring a lot of bulky equipment, thus limiting their ability to record the entire event. Even "candid" photos were more often staged after the ceremony. In the 1970s, the more modern approach to recording the entire wedding event started evolving into the practice as we know it today, including a more "documentary" style of photography.
Technology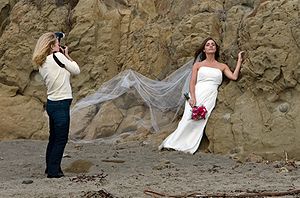 During the film era, photographers favored color negative film and medium-format cameras, especially by
Hasselblad
Hasselblad
Victor Hasselblad AB is a Swedish manufacturer of medium-format cameras and photographic equipment based in Gothenburg, Sweden.The company is best known for the medium-format cameras it has produced since World War II....
. Today, many more weddings are photographed with digital SLR cameras as the digital convenience provides quick detection of lighting mistakes and allows creative approaches to be reviewed immediately.
In spite of diminishing film use, some photographers continue to shoot with film as they prefer the film aesthetic, and others are of the opinion that negative film captures more information than digital technology, and has less margin for exposure error. Certainly true in some cases, it should be noted that exposure latitude inherent in a camera's native
Raw image format
RAW image format
A camera raw image file contains minimally processed data from the image sensor of either a digital camera, image scanner, or motion picture film scanner. Raw files are so named because they are not yet processed and therefore are not ready to be printed or edited with a bitmap graphics editor...
(which allows for more under- and over- exposure than
JPEG
JPEG
In computing, JPEG . The degree of compression can be adjusted, allowing a selectable tradeoff between storage size and image quality. JPEG typically achieves 10:1 compression with little perceptible loss in image quality....
) varies from manufacturer to manufacturer. All forms of RAW have a degree of exposure latitude which exceeds slide film - to which digital capture is commonly compared.
Currently, it is fair to say that many professional labs have a greater capacity to provide services in post-production for film compared with digital, such as quickly generating adequate prints in the event of some over- or under- exposure. This should change over time, with manufacturers like
Kodak
Eastman Kodak
Eastman Kodak Company is a multinational imaging and photographic equipment, materials and services company headquarted in Rochester, New York, United States. It was founded by George Eastman in 1892....
announcing a commitment to further develop streamlined services in the area of professional digital lab output.
Technology has evolved with the use of remote triggers and flashes. Wedding photographers are now able to take advantage of traveling light and having the ability to use creative lighting.
Approaches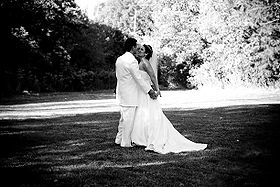 There are two primary approaches to wedding photography that are recognized today: Traditional and
Photojournalistic
Wedding Photojournalist
A wedding photojournalist is a person who takes photographs during a wedding using an alternative approach where images are captured spontaneously to emphasize moments and emotion. Much like photojournalists for the media, wedding photojournalists present the story of the day through their...
. Traditional wedding photography provides for more classically posed images and a great deal of photographer control and interaction on the day of the wedding. Photojournalistic wedding photography takes its cue from editorial reporting styles and focuses more on candid and unposed images with little photographer interaction. These are two extremes and many of today's photographers will fall somewhere in the middle of these two styles.
A third style that is becoming more popular is a fashion-based approach. In contemporary/fashion-based wedding photography, photojournalistic images of the events of the day are combined with posed images that are inspired by editorial fashion photography as would be found in magazines like Vogue or
Vanity Fair
Vanity Fair (magazine)
Vanity Fair is a magazine of pop culture, fashion, and current affairs published by Condé Nast. The present Vanity Fair has been published since 1983 and there have been editions for four European countries as well as the U.S. edition. This revived the title which had ceased publication in 1935...
. This style often involves more innovative and dramatic post-processing of images.
A fourth style that is popular in Asian countries, especially in China, is wedding studio photography (Chinese: 婚纱摄影; pinyin: hūn shā shè yǐng). Typically, couples will select a studio in a similar manner as western couples select a wedding photographer. They will then make an appointment with the studio for either in-studio or location shoot, which is becoming popular in recent years, to do "glamour wedding shots". In attendance will be a hair stylist and make-up artist in addition to the photographer and the couple. The couple will go through many changes of clothing and backgrounds in a similar manner to the fashion based approach.
The term
contemporary wedding photography
is used to describe wedding photography that is not of a traditional nature. The emphasis in contemporary photography is to capture the story and atmosphere from the day, so the viewer has an appreciation of what the wedding was like, rather than a series of pre-determined poses. This term can be mistaken for meaning any photograph that is not posed or formal. The advent and advancement of digital cameras (and increased use of the internet) means that many people can offer their services as a wedding photographer, but contemporary wedding photography is more than taking informal photographs and involves the use of
composition
Composition (visual arts)
In the visual arts – in particular painting, graphic design, photography and sculpture – composition is the placement or arrangement of visual elements or ingredients in a work of art or a photograph, as distinct from the subject of a work...
, lighting, and timing to capture photographs that have a strong visual appeal.
There is some uncertainty over what constitutes contemporary and how this differs from other forms of wedding photography. The PSA Journal, March 1994, records a debate on this subject.. This highlights the difficulty with the word
contemporary
when defining photographic expression, as some feel this term is not sufficiently defined. For example, is
photojournalism
Photojournalism
Photojournalism is a particular form of journalism that creates images in order to tell a news story. It is now usually understood to refer only to still images, but in some cases the term also refers to video used in broadcast journalism...
contemporary or is it different? Photojournalism is easier to define, as the term infers the photography is by its nature similar to journalism, where the emphasis is upon reporting and recording events in a newsworthy manner, whereas contemporary may include an element of photojournalism but is not exclusively that style of photography.
However, the landscape of Wedding Photography has constantly evolved, it is a creative discipline and those proponents at the leading edge of the industry are constantly feeding new ideas into the photographic community. As a result trends will develop, mostly based around the core elements discussed. Some will be transitory while others will remain a traditional part.
Albums, prints, and other products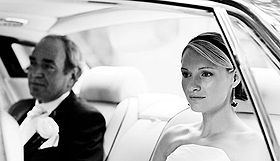 A contemporary wedding photographer will usually provide some or all of the following:
Indoor photography at a church, temple, or other private venue during the ceremony and reception.
Outdoor photography (often at a park, beach, or scenic location on the day of the wedding and/or for engagement photos).
Both posed and candid (photojournalistic) shots of the wedding couple and their guests at the religious or civil ceremony, and the reception that follows.
Formal portraiture in the studio (for either the wedding and/or the engagement photos).
Digital services, such as digital prints or slides shows.
Albums (either traditional matted albums or the more contemporary flush mount type of album).
The range of deliverables that a wedding photographer presents is varied. There is no standard as to what is included in a wedding coverage or package, so products vary regionally and from across photographers, as do the number of images provided.
Most photographers provide a set of proofs (usually unretouched, edited images) for the clients to view. Photographers may provide hard copy proofs in the form of 4x5 or 4x6 prints, a "magazine" of images with thumbnail sized pictures on multiple pages, an online proof gallery, images on CD or DVD in the form of a gallery or a slideshow, or a combination of the above. Some photographers provide these proofs for the client to keep, and some photographers require the client to make final print choices from the proofs and then return them or purchase them at an additional cost.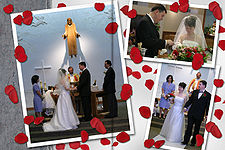 There are a wide variety of albums and manufacturers available, and photographers may provide traditional matted albums, digitally designed "coffee table" albums, contemporary flush mount albums, hardbound books, scrapbook style albums, or a combination of any of the above. Albums may be included as part of a pre-purchased package, or they may be added as an after-wedding purchase. Not all photographers provide albums; some may prefer to provide prints and/or files and let clients make their own albums.
Most photographers allow clients to purchase additional prints for themselves or their families. Many photographers now provide online sales either through galleries located on their own websites or through partnerships with other vendors. Those vendors typically host the images and provide the back end sales mechanism for the photographer; the photographer sets his or her own prices and the vendor takes a commission or charges a flat fee.
Some photographers are also including high resolution files in their packages. These photographers allow their clients limited rights to reproduce the images for their personal use, while retaining the copyright. Not all photographers release files and those who do will most likely charge a premium for them, since releasing files means giving up any after wedding print or album sales for the most part.
The owner of the pictures' copyright is often explicitly stated in the contract for photographic services. Without such explicit statement, the owner of the pictures' copyright will depend on the country involved as copyright laws vary from country to country. Photographers who do not retain copyright of the images often charge more for their services. In these cases, the photographer provides the client with the digital images as part of the wedding package. The client then has unrestricted use of the images and can print any that they may desire.
Profession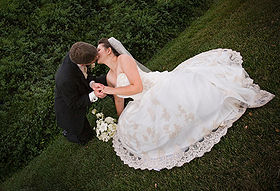 The wedding photography industry is home to some respected names within the photography industry, some of whom were listed in PopPhoto's Top 10 Wedding Photographers in the World. These figures represent the historical rise of wedding photojournalism, fashion,
couture
Haute couture
Haute couture refers to the creation of exclusive custom-fitted clothing. Haute couture is made to order for a specific customer, and it is usually made from high-quality, expensive fabric and sewn with extreme attention to detail and finished by the most experienced and capable seamstresses,...
-style portraits, and all digital work-flow.
As a wedding is a one-time event, the photographer must be prepared for the unexpected. Shooting a wedding is both exhausting and invigorating as the photographer is constantly looking for good angles and opportunities for candid shots. Communication and planning time-lines before the event will alleviate many of the stresses associated with photographing a wedding. The ability to tactfully take charge also helps - particularly when photographing large groups or families - a common expectation after the ceremony. Having a run list with all of the expected shots is also a useful tool. A photographer may work with an assistant who can carry equipment, arrange guests, and assist with clothing adjustments or holding of
reflector
Reflector (photography)
In photography and cinematography, a reflector is an improvised or specialised reflective surface used to redirect light towards a given subject or scene.- Types :...
s.
Some wedding photographers have an office or studio which can double as a retail photography studio. In bigger cities, one might find dedicated wedding studios that only shoot weddings and may have large studios equipped with make-up, hair, and gowns ready for the bride to wear. Other wedding photographers work out of a home studio, preferring to photograph on location.
Professional organizations
Organizations such as the
Professional Photographers of America
Professional Photographers of America
This organization was formed in April 1880 as the Photographers Association of America, Inc., by members of the Chicago Photographic Association and the National Photographic Association. The name was changed to Professional Photographers of America, Inc. , in 1958 to distinguish the association...
(PPA), Wedding and Portrait Photographers International (WPPI) and Wedding Photojournalist Association (WPJA) support the art and business of wedding photography. WPJA awards an annual Photographer of the Year Award to recognize the best in wedding photojournalism. The most recent winners include: Carlo Carletti (2009), Franck Boutonnet (2008) and Ben Chrisman (2007). Standards and requirements for professional organizations vary, but membership often indicates a photographer is insured (if they should lose or ruin a large number of images, they can compensate such errors for their clients). Professional organizations offer training, professional competition, and support to members, as well as directory services to help with marketing. In the UK the main governing bodies of wedding photography are
The National Photographic Society
, British Institute of Professional Photographers, the Society of Wedding and Portrait Photographers and the Master Photographers Association.
See also