 Wasserschloss Wilkinghege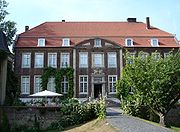 The
Wasserschloss Wilkinghege
is a country estate in
Kinderhaus
Münster-Kinderhaus
Kinderhaus is a district of Münster, a city in North Rhine-Westphalia, Germany. It lies approximately 4 km to the north of the centre of Münster and belongs to the borough Münster-Nord, together with Coerde and Sprakel...
, part of the
Westphalia
Westphalia
Westphalia is a region in Germany, centred on the cities of Arnsberg, Bielefeld, Dortmund, Minden and Münster.Westphalia is roughly the region between the rivers Rhine and Weser, located north and south of the Ruhr River. No exact definition of borders can be given, because the name "Westphalia"...
n city of
Münster
Münster
Münster is an independent city in North Rhine-Westphalia, Germany. It is located in the northern part of the state and is considered to be the cultural centre of the Westphalia region. It is also capital of the local government region Münsterland...
, Germany. It is built in
Renaissance style
Mannerism
Mannerism is a period of European art that emerged from the later years of the Italian High Renaissance around 1520. It lasted until about 1580 in Italy, when a more Baroque style began to replace it, but Northern Mannerism continued into the early 17th century throughout much of Europe...
. Since 1955 it has been used as a hotel with a golf course.
History
In the year 1311 a moated castle (German
Wasserburg
) Wilkinghege appears for the first time in an official document. It was a castle that served defensive purposes and was held as a fief by the Rhemen zu Barenfeld family; in the 14th century it was transferred to the Lords von Cleyhorst.
Beginning in 1550 the old castle was replaced by the country estate, now a
Wasserschloss
in German, indicating that although it still had a moat, this was now an element of style; the castle was no longer military in function. The owners were the Steveninck zu Broich family. In 1719 it was rebuilt by Gottfried Laurenz Pictorius in the Mannerist style for Herr von Harde and his wife Katharina von Keppel. In the following years the castle's ownership changed several times, but in 1779 it was again in the possession of the Rhemen zu Barenfeld family.
After that family died out, the new owners became the Winnecken family, who still own the estate, together with the surrounding lands.
In 1958 the building caught fire. It was rebuilt largely true to the original, so that it still has the spirit of a castle.
Famous guests
In the course of the centuries, many well known people have visited the fortress and the castle, including:
External links