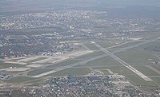 Warsaw Frederic Chopin Airport
Warsaw Chopin Airport
is an
international airport
International airport
An international airport is any airport that can accommodate flights from other countries and are typically equipped with customs and immigration facilities to handle these flights to and from other countries...
located in the Włochy district of
Warsaw
Warsaw
Warsaw is the capital and largest city of Poland. It is located on the Vistula River, roughly from the Baltic Sea and from the Carpathian Mountains. Its population in 2010 was estimated at 1,716,855 residents with a greater metropolitan area of 2,631,902 residents, making Warsaw the 10th most...
,
Poland
Poland
Poland , officially the Republic of Poland , is a country in Central Europe bordered by Germany to the west; the Czech Republic and Slovakia to the south; Ukraine, Belarus and Lithuania to the east; and the Baltic Sea and Kaliningrad Oblast, a Russian exclave, to the north...
. Poland's busiest airport, Warsaw Chopin handles just under 50% of the country's air passenger traffic.
Formerly
Warsaw-Okecie Airport
or
Okecie International Airport
, the airport bore the name of its
Okęcie
Okecie
Okęcie is the largest neighbourhood of the Włochy district of Warsaw, Poland.It is the location of Warsaw Chopin Airport and the PZL Warszawa-Okęcie aircraft works, and home to the Okęcie Warszawa professional association football club....
neighborhood throughout its history, until its renaming for Polish
composer
Composer
A composer is a person who creates music, either by musical notation or oral tradition, for interpretation and performance, or through direct manipulation of sonic material through electronic media...
and former Warsaw resident
Frédéric Chopin
Frédéric Chopin
Frédéric François Chopin was a Polish composer and virtuoso pianist. He is considered one of the great masters of Romantic music and has been called "the poet of the piano"....
in 2001. Despite the official change,
"Okecie"
remains in popular and industry use, including air traffic and aerodrome references.
Warsaw Chopin handles approximately 300 scheduled flights daily and an ever rising number of charters.
London
London
London is the capital city of :England and the :United Kingdom, the largest metropolitan area in the United Kingdom, and the largest urban zone in the European Union by most measures. Located on the River Thames, London has been a major settlement for two millennia, its history going back to its...
, Frankfurt,
Paris
Paris
Paris is the capital and largest city in France, situated on the river Seine, in northern France, at the heart of the Île-de-France region...
, and
Amsterdam
Amsterdam
Amsterdam is the largest city and the capital of the Netherlands. The current position of Amsterdam as capital city of the Kingdom of the Netherlands is governed by the constitution of August 24, 1815 and its successors. Amsterdam has a population of 783,364 within city limits, an urban population...
are the busiest international connections, while
Kraków
Kraków
Kraków also Krakow, or Cracow , is the second largest and one of the oldest cities in Poland. Situated on the Vistula River in the Lesser Poland region, the city dates back to the 7th century. Kraków has traditionally been one of the leading centres of Polish academic, cultural, and artistic life...
, Wrocław, and
Gdańsk
Gdansk
Gdańsk is a Polish city on the Baltic coast, at the centre of the country's fourth-largest metropolitan area.The city lies on the southern edge of Gdańsk Bay , in a conurbation with the city of Gdynia, spa town of Sopot, and suburban communities, which together form a metropolitan area called the...
are the most popular domestic ones.
History
In 1924, when urban development around Warsaw's
aerodrome
Aerodrome
An aerodrome, airdrome or airfield is a term for any location from which aircraft flight operations take place, regardless of whether they involve cargo, passengers or neither...
at Mokotów Fields (Pole Mokotowskie) began affecting air traffic, the Ministry of Railways purchased land near the village of Okęcie to construct a new airport. In 1933, The Central Airport (Okęcie) took over the handling of all traffic from the Pole Mokotowskie. During
World War II
World War II
World War II, or the Second World War , was a global conflict lasting from 1939 to 1945, involving most of the world's nations—including all of the great powers—eventually forming two opposing military alliances: the Allies and the Axis...
, Okęcie was often used as a battleground between the German Army and
Polish resistance
Polish resistance movement in World War II
The Polish resistance movement in World War II, with the Home Army at its forefront, was the largest underground resistance in all of Nazi-occupied Europe, covering both German and Soviet zones of occupation. The Polish defence against the Nazi occupation was an important part of the European...
and was practically destroyed. After liberation,
LOT Polish Airlines
LOT Polish Airlines
Polskie Linie Lotnicze LOT S.A. , trading as LOT Polish Airlines, is the flag carrier of Poland. Based in Warsaw, LOT was established in 1929, making it one of the world's oldest airlines still in operation. Using a fleet of 55 aircraft, LOT operates a complex network to 60 destinations in Europe,...
resumed operations at Okęcie, using pre-war infrastructure. In 1956, maintenance of Okęcie was transferred from LOT Polish Airlines to state administration. In 1969 a new international
terminal
Airport terminal
An airport terminal is a building at an airport where passengers transfer between ground transportation and the facilities that allow them to board and disembark from aircraft....
was built to handle 1 million passengers annually, few years later a separate, temporary arrival hall was built. Meanwhile, domestic flights continued to operate from the facilities built on the site of the pre-war terminal. In 1979 a new arrivals hall, the so-called 'Finnish Hall' opened. In March 2001, Warsaw Airport was renamed in honour of the Polish pianist Frédéric Chopin (though this name is almost never used in practice, and most users know the place simply as Okęcie).
Runways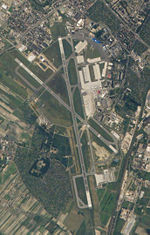 The airport has two intersecting runways, whose configuration and available taxiways under current rules permit 34 passenger operations (
takeoff
Takeoff
Takeoff is the phase of flight in which an aerospace vehicle goes from the ground to flying in the air.For horizontal takeoff aircraft this usually involves starting with a transition from moving along the ground on a runway. For balloons, helicopters and some specialized fixed-wing aircraft , no...
s or
landing
Landing
thumb|A [[Mute Swan]] alighting. Note the ruffled feathers on top of the wings indicate that the swan is flying at the [[Stall |stall]]ing speed...
s) per hour.
Preferential runways
The following preferential runway system has been established for the airport:
Arrivals:
Runway 33
Runway 11
Runway 15
Runway 29
Departures:
Runway 29
Runway 15
Runway 33
Runway 11
Between 20:00 and 04:00 hours (in winter: 21:00 and 05:00), Runway 15/33 is used, weather and technical considerations permitting.
Terminals
Southern hall
(check-in areas A and B, former
Terminal 1
) was built in 1992 with capacity for 3.5 million passengers per year to replace the ageing complex from the communist era. Initially it handled all the traffic. In 2005, the old arrival hall from 70s was refurbished and reopened, and under the name "Etiuda" became a temporary terminal for
low-cost traffic
Low-cost carrier
A low-cost carrier or low-cost airline is an airline that generally has lower fares and fewer comforts...
. In March 2009 the Etiuda terminal was closed and low-cost carriers and some other carriers (mainly
SkyTeam
SkyTeam
SkyTeam, branded as SKYTEAM, is an airline alliance with its centralised management team, SkyTeam Central, based at the World Trade Center Schiphol Airport on the grounds of Amsterdam Airport Schiphol in Haarlemmermeer, Netherlands...
alliance members) moved to T1. Since 2007 the T2, a newly built terminal adjacent to T1, has been gradually taking over the major part of the traffic.
Northern hall
(check-in areas C, D and E, former
Terminal 2
) is a new terminal which became fully operational on 12 March 2008, two years after the originally planned opening date. The arrivals area was in operation from mid-2007 but problems with safety certification and disagreements between the airport and the construction firm delayed full operation. The new terminal is considerably larger than the older Terminal 1 and has taken over departures for all
Star Alliance
Star Alliance
Star Alliance is the world's first and largest airline alliance, headquartered in Frankfurt am Main, Germany . The alliance was founded in 1997 by five of the world's leading airlines: Air Canada, Lufthansa, Scandinavian Airlines, Thai Airways International and United Airlines...
and
OneWorld
Oneworld
Oneworld , branded as oneworld, is one of the world's three largest global airline alliances with its central management team, oneworld Management Company, based in New York City, New York, USA. Oneworld was founded in 1999 by American Airlines, British Airways, Canadian Airlines, Cathay Pacific...
airlines and a few other carriers.
In 2010, the designation of terminals has changed and the entire T1+T2 complex is currently designed as 'Terminal A' divided into five check-in areas (A, B, C, D, E). The complex contains 45 passenger gates, that contains 27 airbridges.
By 2015, the southern hall will have been redesigned, reconstructed and fully integrated into the 'Terminal A' complex.
Airlines and destinations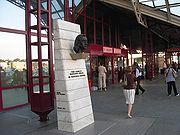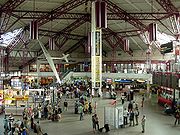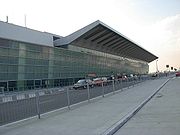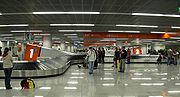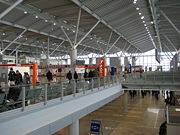 Seasonal charters
Cargo airlines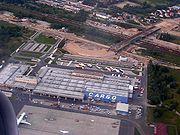 Statistics
Passenger traffic in the period 1995-2010, from the airport's official webpage:
1994 - 2,198,008
1995 - 2,735,469
1996 - 3,090,321
1997 - 3,484,452
1998 - 3,815,624
1999 - 3,997,531
2000 - 4,325,814
2001 - 4,713,655
2002 - 4,936,835
2003 - 5,166,991
2004 - 6,085,111
2005 - 7,071,881
2006 - 8,101,827
2007 - 9,268,476
2008 - 9,460,606
2009 - 8,320,927
2010 - 8,712,384
2011 (JAN-OCT) - 8,070,000 (about)
Access
Warsaw Chopin Airport is located in the south-west part of Warsaw, approximately 10 km (6.21 mi) from the city centre. The airport is easy to access by car, the municipal bus service or taxi.
Żwirki
i Wigury, named after the celebrated aviators who won the
Challenge International de Tourisme in 1932
Challenge 1932
The Challenge 1932 was the third FAI International Tourist Plane Contest , that took place between 12 and August 28, 1932 in Berlin, Germany. The four Challenges, from 1929 to 1934, were major aviation events in pre-war Europe.-Overview:...
, is the artery leading to the airport.
Bus
Warsaw city center can be reached by the bus lines: 175 and 188 during the day and N32 at night. There is also an additional line 148 that provides access to
Ursynów
Ursynów
Ursynów is the southernmost district of Warsaw. With a surface area of 44.6 km², it is the third largest district in Warsaw, comprising 8.6 percent of the city. The district has a population of almost 148,000, and is one of the fastest growing neighborhoods in Warsaw...
(a southern part of Warsaw) and
Praga
Praga
Praga is a historical borough of Warsaw, the capital of Poland. It is located on the east bank of the river Vistula. First mentioned in 1432, until 1791 it formed a separate town with its own city charter.- History :...
(an eastern part of Warsaw). The fare is PLN 2.8 (PLN 3.6 from august,16th.) (Reduced fare 50% normal fee) one-way for all the lines (day and night).
Rail
There are no direct rail links to the airport. As of 2010, a rail link is being built at a cost of 230 million złoty to connect the airport's
Warsaw Chopin Airport railway station
Warsaw Chopin Airport railway station
Warsaw Chopin Airport railway station is a proposed railway station located under Warsaw Chopin Airport in Warsaw, Poland. The station was built as part of Terminal 2 of the airport in 2008 but has remained non-operational until the track to connect to the network is completed with a completion...
(built as part of Terminal A) to Warsaw city centre.
Future auxiliary airport at Modlin
A proposal to convert of a former military airfield north of the city into Warsaw's second international airport for low-cost carriers is, as of May 2008, awaiting government approval on environmental grounds, but due to proximity to bird migration routes and protected bird sanctuary wetlands, may be delayed or ultimately blocked. Modlin is also to service charter carriers and in some undefined future, cargo, but due to chronic delays in commencing needed construction, is not expected to become operational until 2011 at the earliest. Meanwhile other regional military airports at
Sochaczew
Sochaczew
Sochaczew is a town in central Poland, with 38,300 inhabitants . Situated in the Masovian Voivodeship , previously in Skierniewice Voivodeship . It is the capital of Sochaczew County....
and
Radom
Radom
Radom is a city in central Poland with 223,397 inhabitants . It is located on the Mleczna River in the Masovian Voivodeship , having previously been the capital of Radom Voivodeship ; 100 km south of Poland's capital, Warsaw.It is home to the biennial Radom Air Show, the largest and...
are being readied by their local governments and private investors to compete with Modlin for Warsaw-region low cost passenger traffic and cargo.
Weddings
On 31 July 2010 at approximately 16:00 local time the first ever wedding was held in the airport chapel in Terminal 2.
Accidents at or near WAW
On 19 December 1962, a LOT Polish Airlines Vickers Viscount 804

Vickers Viscount

The Vickers Viscount was a British medium-range turboprop airliner first flown in 1948 by Vickers-Armstrongs, making it the first such aircraft to enter service in the world...


crashed on approach after a flight from Brussels and Berlin-Schönefeld Airport, while attempting a go-around. All 33 passengers on board died.
On 14 March 1980, LOT Polish Airlines Flight 007

LOT Polish Airlines Flight 007

LOT Polish Airlines Flight 007 crashed near Okęcie Airport in Warsaw, Poland, on 14 March 1980, due to mechanical failure as the crew aborted a landing and attempted to go-around. All 87 crew and passengers died.- The aircraft :...


, Ilyushin Il-62

Ilyushin Il-62

The Ilyushin Il-62 is a Soviet long-range jet airliner conceived in 1960 by Ilyushin. As successor to the popular turbo-prop Il-18 and with capacity for almost 200 passengers, the Il-62 was the largest jet airliner when it first flew in 1963. It entered Aeroflot service on 15 September 1967 with...


aircraft crashed on final approach

Final approach (aviation)

A final approach is the last leg in an aircraft's approach to landing. In aviation radio terminology, it is often shortened to "final".In a standard airport landing pattern, which is usually used under visual meteorological conditions , aircraft turn from base leg to final within one to two miles...


from New York City

New York City

New York is the most populous city in the United States and the center of the New York Metropolitan Area, one of the most populous metropolitan areas in the world. New York exerts a significant impact upon global commerce, finance, media, art, fashion, research, technology, education, and...


's John F. Kennedy International Airport

John F. Kennedy International Airport

John F. Kennedy International Airport is an international airport located in the borough of Queens in New York City, about southeast of Lower Manhattan. It is the busiest international air passenger gateway to the United States, handling more international traffic than any other airport in North...


, when attempting a go-around

Go-around

A go-around is an aborted landing of an aircraft that is on final approach.- Origin of the term :The term arises from the traditional use of traffic patterns at airfields. A landing aircraft will first join the circuit pattern and prepare for landing in an orderly fashion...


. All 87 passengers on board died, including the entire amateur US boxing team, Polish pop singer Anna Jantar

Anna Jantar

Anna Jantar-Kukulska was a popular Polish singer and mother of Natalia Kukulska.Born in Poznań as Anna Maria Szmeterling, she graduated from Adam Mickiewicz University in Poznań. She began her career in 1968 with the song Po ten kwiat czerwony. A year later she became the lead vocalist of the band...


and Alan P. Merriam

Alan P. Merriam

Alan Parkhurst Merriam was an ethnomusicologist during the last half of the twentieth century. He is remembered primarily for his book, The Anthropology of Music, in which he promotes the study of music from an anthropological perspective and with anthropological methods.In , Merriam proposed a...


.
On 9 May 1987, LOT Polish Airlines Flight 5055

LOT Polish Airlines Flight 5055

LOT Polish Airlines Flight 5055 crashed in the Kabaty Woods nature reserve on the outskirts of Warsaw on May 9, 1987. The aircraft was an Ilyushin Il-62M bearing the name Tadeusz Kościuszko...


, Ilyushin Il-62M took-off for a flight to New York-JFK Airport and returned to Okęcie, after an engine failure. During its approach the aircraft crashed in a heavily wooded-area, short of the runway. All 183 passengers on board died.
On 17 December 1991, Alitalia Flight 1212, a McDonnell-Douglas DC 9-32 arriving from Rome-Fiumicino Airport, landed next to the runway after unstabilized approach. As a result, the nose gear of the aircraft collapsed. All 96 passengers and crew survived, however the aircraft was damaged beyond repair and written-off.
On 14 September 1993, Lufthansa Flight 2904

Lufthansa Flight 2904

Lufthansa Flight 2904 was an Airbus A320-200 which overran the runway, in Okęcie International Airport on 14 September 1993. It was a flight from Frankfurt, Germany to Warsaw, Poland.-Description of the incident:...


, an Airbus A320-200

Airbus A320 family

The Airbus A320 family is a family of short- to medium-range, narrow-body, commercial passenger jet airliners manufactured by Airbus Industrie.Airbus was originally a consortium of European aerospace companies, and is now fully owned by EADS. Airbus's name has been Airbus SAS since 2001...


, overran the runway and crashed into an embankment, after a flight from Frankfurt. The co-pilot and one passenger died, and 68 passengers and crew were injured.
On 31 December 1993, LOT Polish Airlines Flight 002, a Boeing 767-300ER arriving from Chicago-O'Hare Airport, suffered substantial damage after its nose gear collapsed when touching down. There were no fatalities.
On November 1, 2011, LOT Polish Airlines Flight 016, a Boeing 767-300ER, inbound from Newark Liberty Airport safely landed at Warsaw Frederic Chopin Airport after a mechanical failure of the landing gear prior to landing. The cockpit crew successfully performed an emergency landing at the airport with no loss of life or injuries.
External links