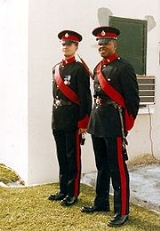 Warrant Officer
A
warrant officer
is an officer in a military organization who is designated an officer by a
warrant
Warrant (law)
Most often, the term warrant refers to a specific type of authorization; a writ issued by a competent officer, usually a judge or magistrate, which permits an otherwise illegal act that would violate individual rights and affords the person executing the writ protection from damages if the act is...
, as distinguished from a
commissioned officer
Officer (armed forces)
An officer is a member of an armed force or uniformed service who holds a position of authority. Commissioned officers derive authority directly from a sovereign power and, as such, hold a commission charging them with the duties and responsibilities of a specific office or position...
who is designated an officer by a commission, or from
non-commissioned officer
Non-commissioned officer
A non-commissioned officer , called a sub-officer in some countries, is a military officer who has not been given a commission...
(NCO) who is designated an officer by virtue of seniority.
The rank was first used in the (then) English
Royal Navy
Royal Navy
The Royal Navy is the naval warfare service branch of the British Armed Forces. Founded in the 16th century, it is the oldest service branch and is known as the Senior Service...
and is today used in many other countries, including the
Commonwealth
Commonwealth of Nations
The Commonwealth of Nations, normally referred to as the Commonwealth and formerly known as the British Commonwealth, is an intergovernmental organisation of fifty-four independent member states...
nations, and the
United States
United States
The United States of America is a federal constitutional republic comprising fifty states and a federal district...
. Outside the United States they are effectively senior non-commissioned officers with long military experience, although technically in a cadre of their own between NCOs and commissioned officers.