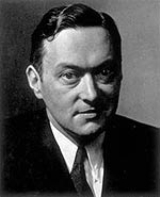 Walter Lippmann
Walter Lippmann was an American
intellectual
Intellectual
An intellectual is a person who uses intelligence and critical or analytical reasoning in either a professional or a personal capacity.- Terminology and endeavours :"Intellectual" can denote four types of persons:...
,
writer
Writer
A writer is a person who produces literature, such as novels, short stories, plays, screenplays, poetry, or other literary art. Skilled writers are able to use language to portray ideas and images....
,
reporter
Journalist
A journalist collects and distributes news and other information. A journalist's work is referred to as journalism.A reporter is a type of journalist who researchs, writes, and reports on information to be presented in mass media, including print media , electronic media , and digital media A...
, and political commentator famous for being among the first to introduce the concept of
Cold War
Cold War
The Cold War was the continuing state from roughly 1946 to 1991 of political conflict, military tension, proxy wars, and economic competition between the Communist World—primarily the Soviet Union and its satellite states and allies—and the powers of the Western world, primarily the United States...
. Lippmann was twice awarded (1958 and 1962) a
Pulitzer Prize
Pulitzer Prize
The Pulitzer Prize is a U.S. award for achievements in newspaper and online journalism, literature and musical composition. It was established by American publisher Joseph Pulitzer and is administered by Columbia University in New York City...
for his syndicated
newspaper
Newspaper
A newspaper is a scheduled publication containing news of current events, informative articles, diverse features and advertising. It usually is printed on relatively inexpensive, low-grade paper such as newsprint. By 2007, there were 6580 daily newspapers in the world selling 395 million copies a...
column, "Today and Tomorrow".
Walter Lippmann was born on 23 September 1889, in New York City, to Jacob and Daisy Baum Lippmann; his upper-middle class German-Jewish family took annual holidays in Europe.
It requires wisdom to understand wisdom: the music is nothing if the audience is deaf.

A Preface to Morals (1929).
The newspaper is in all its literalness the bible of democracy, the book out of which a people determines its conduct.

quoted by Tim Rutten in the Los Angeles Times, Saturday, October 7, 2006