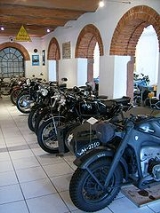 Wadgassen
Wadgassen
is a municipality in the
district of Saarlouis
Saarlouis (district)
Saarlouis is a Kreis in the middle of the Saarland, Germany. Neighboring districts are Merzig-Wadern, Sankt Wendel, Neunkirchen, Saarbrücken, and the French département Moselle.-History:...
, in
Saarland
Saarland
Saarland is one of the sixteen states of Germany. The capital is Saarbrücken. It has an area of 2570 km² and 1,045,000 inhabitants. In both area and population, it is the smallest state in Germany other than the city-states...
,
Germany
Germany
Germany , officially the Federal Republic of Germany , is a federal parliamentary republic in Europe. The country consists of 16 states while the capital and largest city is Berlin. Germany covers an area of 357,021 km2 and has a largely temperate seasonal climate...
. It is situated on the river
Saar
Saar River
The Saar is a river in northeastern France and western Germany, and a right tributary of the Moselle. It rises in the Vosges mountains on the border of Alsace and Lorraine and flows northwards into the Moselle near Trier. It has two headstreams , that both start near Mont Donon, the highest peak...
, approx. 6 km southeast of
Saarlouis
Saarlouis
Saarlouis is a city in the Saarland, Germany, capital of the district of Saarlouis. In 2006, the town had a population of 38,327. Saarlouis, as the name implies, is located at the river Saar....
, and 15 km west of
Saarbrücken
Saarbrücken
Saarbrücken is the capital of the state of Saarland in Germany. The city is situated at the heart of a metropolitan area that borders on the west on Dillingen and to the north-east on Neunkirchen, where most of the people of the Saarland live....
.
Religion
Between 1135 and 1792 the
Premonstratensian
Premonstratensian
The Order of Canons Regular of Prémontré, also known as the Premonstratensians, the Norbertines, or in Britain and Ireland as the White Canons , are a Catholic religious order of canons regular founded at Prémontré near Laon in 1120 by Saint Norbert, who later became Archbishop of Magdeburg...
Wadgassen Abbey was located here.
Fusion
1974: Differten, Friedrichweiler, Hostenbach, Schaffhausen (Saar), Wadgassen (village), Werbeln
Local council
| | |
| --- | --- |
| CDU | 16 |
| SPD | 14 |
| FWG | 2 |
| Independent | 1 |
(as at 3 September 2008)
Economy
Glass industry (Villeroy & Boch

Villeroy & Boch

Villeroy & Boch is a large manufacturer of ceramics with the company headquarters located in Mettlach, Germany.-Company history:The company began in the tiny French village of Audun le Tiche, where François Boch set up a pottery company with his three sons in 1748. Later, the company moved to...


).
Mechanical engineering (Firma Koch; since 2007 FL SMIDTH KOCH MVT)
Startup: Factory-Outlet-Center
Museums
Deutsches Zeitungsmuseum (DZM) in the Abteihof (part of the former Premonstratensian abbey)
Glashütte Museum: Villeroy & Boch
Museum Academia Wadegotia - local history and living history of Wadgassen: Treppenstrasse 13 (csw Neubau), Wadgassen. Founded as institute museum.
Saarländisches Zweiradmuseum

Saarländisches Zweiradmuseum

Saarländisches Zweiradmuseum is a motorcycle museum in Saarland, Germany.-External links:*...


on the site of the Cristallerie Wadgassen (closed on 30 September 2007)
Famous people
Daniel Braun

Daniel Braun

Daniel Braun is a German author, journalist and programmer.His most famous work is Roboter programmieren mit NXC für Lego Mindstorms NXT, the german standard reference for Not eXactly C. As journalist he wrotes guest contribution for Das Parlament, the official newspaper of the Bundestag and many...


, author

Author

An author is broadly defined as "the person who originates or gives existence to anything" and that authorship determines responsibility for what is created. Narrowly defined, an author is the originator of any written work.-Legal significance:...


and journalist

Journalist

A journalist collects and distributes news and other information. A journalist's work is referred to as journalism.A reporter is a type of journalist who researchs, writes, and reports on information to be presented in mass media, including print media , electronic media , and digital media A...



Johannes Kirschweng, poet

Poet

A poet is a person who writes poetry. A poet's work can be literal, meaning that his work is derived from a specific event, or metaphorical, meaning that his work can take on many meanings and forms. Poets have existed since antiquity, in nearly all languages, and have produced works that vary...



Sources and external links