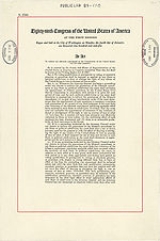 Voting Rights Act
The
Voting Rights Act of 1965
is a landmark piece of national
legislation
Act of Congress
An Act of Congress is a statute enacted by government with a legislature named "Congress," such as the United States Congress or the Congress of the Philippines....
in the
United States
United States
The United States of America is a federal constitutional republic comprising fifty states and a federal district...
that outlawed discriminatory voting practices that had been responsible for the widespread disenfranchisement of
African American
African American
African Americans are citizens or residents of the United States who have at least partial ancestry from any of the native populations of Sub-Saharan Africa and are the direct descendants of enslaved Africans within the boundaries of the present United States...
s in the U.S.
Echoing the language of the
15th Amendment
Fifteenth Amendment to the United States Constitution
The Fifteenth Amendment to the United States Constitution prohibits each government in the United States from denying a citizen the right to vote based on that citizen's "race, color, or previous condition of servitude"...
, the Act prohibits states from imposing any "voting qualification or prerequisite to voting, or standard, practice, or procedure ... to deny or abridge the right of any citizen of the United States to vote on account of race or color." Specifically,
Congress
United States Congress
The United States Congress is the bicameral legislature of the federal government of the United States, consisting of the Senate and the House of Representatives. The Congress meets in the United States Capitol in Washington, D.C....
intended the Act to outlaw the practice of requiring otherwise qualified voters to pass
literacy test
Literacy test
A literacy test, in the context of United States political history, refers to the government practice of testing the literacy of potential citizens at the federal level, and potential voters at the state level. The federal government first employed literacy tests as part of the immigration process...
s in order to register to vote, a principal means by which Southern states had prevented African-Americans from exercising the franchise.