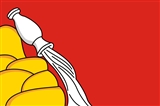 Voronezh Oblast
Voronezh Oblast
is a
federal subject
Federal subjects of Russia
Russia is a federation which, since March 1, 2008, consists of 83 federal subjects . In 1993, when the Constitution was adopted, there were 89 federal subjects listed...
of
Russia
Russia
Russia or , officially known as both Russia and the Russian Federation , is a country in northern Eurasia. It is a federal semi-presidential republic, comprising 83 federal subjects...
(an
oblast
Oblast
Oblast is a type of administrative division in Slavic countries, including some countries of the former Soviet Union. The word "oblast" is a loanword in English, but it is nevertheless often translated as "area", "zone", "province", or "region"...
). It was established on June 13, 1934.
Main rivers
Don

Don River (Russia)

The Don River is one of the major rivers of Russia. It rises in the town of Novomoskovsk 60 kilometres southeast from Tula, southeast of Moscow, and flows for a distance of about 1,950 kilometres to the Sea of Azov....



Voronezh

Voronezh River

Voronezh is a river in Tambov, Lipetsk, and Voronezh Oblasts in Russia, a left tributary of the Don. The Voronezh River is 342 km in length. The area of its drainage basin is 21,600 km². It freezes up in the first half of December and stays under the ice until late March. The lower...



Bityug

Bityug River

Bityug River is a river in the Voronezh Oblast in Russia, left tributary of the Don River. The upper reaches of the river are located in the Tambov Oblast. The length of the Bityug is 379 km. The area of its basin is 8,840 km². There are more than 400 lakes in the Bityug basin. The river freezes...



Khopyor
Economy
Voronezh Oblast has large reserves of
chalk
Chalk
Chalk is a soft, white, porous sedimentary rock, a form of limestone composed of the mineral calcite. Calcite is calcium carbonate or CaCO3. It forms under reasonably deep marine conditions from the gradual accumulation of minute calcite plates shed from micro-organisms called coccolithophores....
. The oblast is an industrial and agricultural region. Excavators, bridge structures, and electronic equipment are produced in regional industry.
External links
Official website of Voronezh Oblast