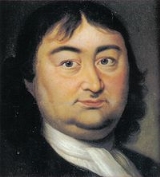 Vitus Bering
Vitus Jonassen Bering
Vitus Jonassen Bering
(also, less correNavy]], a captain-
komandor
known among the Russian sailors as
Ivan Ivanovich
. He is noted for being the first European to discover
Alaska
Alaska
Alaska is the largest state in the United States by area. It is situated in the northwest extremity of the North American continent, with Canada to the east, the Arctic Ocean to the north, and the Pacific Ocean to the west and south, with Russia further west across the Bering Strait...
and its
Aleutian Islands
. The
Bering Strait
Bering Strait
The Bering Strait , known to natives as Imakpik, is a sea strait between Cape Dezhnev, Chukotka Autonomous Okrug, Russia, the easternmost point of the Asian continent and Cape Prince of Wales, Alaska, USA, the westernmost point of the North American continent, with latitude of about 65°40'N,...
, the
Bering Sea
Bering Sea
The Bering Sea is a marginal sea of the Pacific Ocean. It comprises a deep water basin, which then rises through a narrow slope into the shallower water above the continental shelves....
,
Bering Island
Bering Island
Bering Island is located off the Kamchatka Peninsula in the Bering Sea. At long by wide, it is the largest of the Commander Islands with the area of ....
,
Bering Glacier
Bering Glacier
Bering Glacier is a glacier in the U.S. state of Alaska. It currently terminates in Vitus Lake south of Alaska's Wrangell-St. Elias National Park, about from the Gulf of Alaska. Combined with the Bagley Icefield, where the snow that feeds the glacier accumulates, the Bering is the largest glacier...
and the
Bering Land Bridge
Bering land bridge
The Bering land bridge was a land bridge roughly 1,000 miles wide at its greatest extent, which joined present-day Alaska and eastern Siberia at various times during the Pleistocene ice ages. Like most of Siberia and all of Manchuria, Beringia was not glaciated because snowfall was extremely light...
are named for the explorer.
After a voyage to the East, he joined the fleet of the Russian Navy as a sublieutenant in 1703, serving in the
Baltic
Baltic Sea
The Baltic Sea is a brackish mediterranean sea located in Northern Europe, from 53°N to 66°N latitude and from 20°E to 26°E longitude. It is bounded by the Scandinavian Peninsula, the mainland of Europe, and the Danish islands. It drains into the Kattegat by way of the Øresund, the Great Belt and...
Fleet
Naval fleet
A fleet, or naval fleet, is a large formation of warships, and the largest formation in any navy. A fleet at sea is the direct equivalent of an army on land....
during the
Great Northern War
Great Northern War
The Great Northern War was a conflict in which a coalition led by the Tsardom of Russia successfully contested the supremacy of the Swedish Empire in northern Central Europe and Eastern Europe. The initial leaders of the anti-Swedish alliance were Peter I the Great of Russia, Frederick IV of...
.