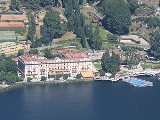 Villa d'Este (Cernobbio)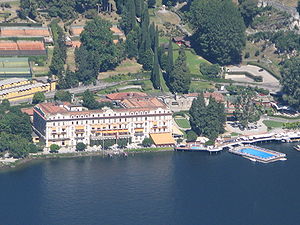 The
Villa d'Este
, originally
Villa del Garovo
, is a
Renaissance
Renaissance
The Renaissance was a cultural movement that spanned roughly the 14th to the 17th century, beginning in Italy in the Late Middle Ages and later spreading to the rest of Europe. The term is also used more loosely to refer to the historical era, but since the changes of the Renaissance were not...
patrician residence in the
Italian
Italy
Italy , officially the Italian Republic languages]] under the European Charter for Regional or Minority Languages. In each of these, Italy's official name is as follows:;;;;;;;;), is a unitary parliamentary republic in South-Central Europe. To the north it borders France, Switzerland, Austria and...
town of
Cernobbio
Cernobbio
Cernobbio is a comune in the Province of Como in the Italian region of Lombardy, located about north of Milan and about northwest of Como, on the border with Switzerland...
on the shores of
Lake Como
Lake Como
Lake Como is a lake of glacial origin in Lombardy, Italy. It has an area of 146 km², making it the third largest lake in Italy, after Lake Garda and Lake Maggiore...
. Both the villa and the 25 acres (101,171.5 m²) park which surrounds it have undergone significant changes since their sixteenth-century origins as a summer residence for the
Cardinal
Cardinal (Catholicism)
A cardinal is a senior ecclesiastical official, usually an ordained bishop, and ecclesiastical prince of the Catholic Church. They are collectively known as the College of Cardinals, which as a body elects a new pope. The duties of the cardinals include attending the meetings of the College and...
of
Como
Como
Como is a city and comune in Lombardy, Italy.It is the administrative capital of the Province of Como....
. Nevertheless, visiting the garden in 1903 for Century Magazine,
Edith Wharton
Edith Wharton
Edith Wharton , was a Pulitzer Prize-winning American novelist, short story writer, and designer.- Early life and marriage:...
found this to be the 'the only old garden on Como which keeps more than a fragment of its original architecture', and noted that 'though
Queen Caroline
Caroline of Brunswick
Caroline of Brunswick-Wolfenbüttel was the Queen consort of King George IV of the United Kingdom from 29 January 1820 until her death...
anglicised part of the grounds, the main lines of the Renaissance garden still exist'.
Since 1873 the complex has been a luxury
hotel
Hotel
A hotel is an establishment that provides paid lodging on a short-term basis. The provision of basic accommodation, in times past, consisting only of a room with a bed, a cupboard, a small table and a washstand has largely been replaced by rooms with modern facilities, including en-suite bathrooms...
.
History
Gerardo Landriani, Bishop of Como (1437–1445), founded a female convent here at the mouth of the Garovo torrent in 1442. A century later Cardinal
Tolomeo Gallio
Tolomeo Gallio
Tolomeo Gallio was an Italian Cardinal.In the time of Pope Gregory XIII, he acted as papal secretary of state , having a key role in the curia....
demolished the nunnery and commissioned
Pellegrino Tibaldi
Pellegrino Tibaldi
Pellegrino Tibaldi , also known as Pellegrino di Tibaldo de Pellegrini, was an Italian mannerist architect, sculptor, and mural painter.-Biography:...
to design a residence for his own use. The Villa del Garovo, together with its luxuriant gardens, was constructed during the years 1565–70 and during the cardinal's lifetime it became a resort of politicians, intellectuals and ecclesiastics. On Gallio's death the villa passed to his family who, over the years, allowed it to sink into a state of some decay. From 1749 to 1769 it was a Jesuit centre for
spiritual exercises
Spiritual Exercises of Ignatius of Loyola
The Spiritual Exercises of St. Ignatius of Loyola, are a set of Christian meditations, prayers and mental exercises, divided into four thematic 'weeks' of variable length, designed to be carried out over a period of 28 to 30 days...
, after which it was acquired first by Count Mario Odescalchi and then in 1778 by a Count Marliani. In 1784 it passed to the
Milan
Milan
Milan is the second-largest city in Italy and the capital city of the region of Lombardy and of the province of Milan. The city proper has a population of about 1.3 million, while its urban area, roughly coinciding with its administrative province and the bordering Province of Monza and Brianza ,...
ese Calderari family who undertook a major restoration project and created a new park all'Italiana with an impressive
nymphaeum
Nymphaeum
A nymphaeum or nymphaion , in ancient Greece and Rome, was a monument consecrated to the nymphs, especially those of springs....
and a temple displaying a seventeenth-century statue of Hercules hurling
Lichas
Lichas
In Greek mythology, Lichas was Hercules' servant, who brought the poisoned shirt from Deianira to Hercules because of her jealousy of Iole, killing him...
into the sea. After the death of Marquis Calderari his wife Vittoria Peluso, a former ballerina at
La Scala
La Scala
La Scala , is a world renowned opera house in Milan, Italy. The theatre was inaugurated on 3 August 1778 and was originally known as the New Royal-Ducal Theatre at La Scala...
and known as la Pelusina, married a Napoleonic general, Count
Domenico Pino
Domenico Pino
Domenico Pino was an Italian soldier. He served as General of Division in Napoleon's Grande Armée.-Biography:...
and a mock fortress was erected in the park in his honour.
In 1815 it became the residence of
Caroline of Brunswick
Caroline of Brunswick
Caroline of Brunswick-Wolfenbüttel was the Queen consort of King George IV of the United Kingdom from 29 January 1820 until her death...
, estranged wife of future King
George IV
George IV of the United Kingdom
George IV was the King of the United Kingdom of Great Britain and Ireland and also of Hanover from the death of his father, George III, on 29 January 1820 until his own death ten years later...
. "Its garden seems almost suspended in the air", she wrote in her diary, "and forms a scene of complete enchantment." She gave it the name Nuova Villa d'Este and had the park landscaped in the English style.
It was converted into a deluxe hotel for the nobility and the high bourgeoisie in 1873, and kept the name Villa d'Este to take advantage of the apparent link with the famous
Villa d'Este in Tivoli
Villa d'Este
The Villa d'Este is a villa situated at Tivoli, near Rome, Italy. Listed as a UNESCO world heritage site, it is a fine example of Renaissance architecture and the Italian Renaissance garden.-History:...
, near Rome. A gala dinner held at the Villa d'Este in 1948 was the scene for the celebrated murder of the wealthy silk manufacturer Carlo Sacchi, shot dead by his lover Countess Pia Bellentani with her husband's Fegyverzyar automatic pistol.
Present
Today, with room rates averaging €1000 ($1400) a night and top suites averaging €3500 ($5000) per night, the villa is a luxury hotel for wealthy people and a high level congress center.
In June 2009,
Forbes
Forbes
Forbes is an American publishing and media company. Its flagship publication, the Forbes magazine, is published biweekly. Its primary competitors in the national business magazine category are Fortune, which is also published biweekly, and Business Week...
reckoned it the best hotel in the world while in 2008 it was listed as the 15th best hotel in Europe and 69th best hotel in the world by
Travel + Leisure
Travel + Leisure
Travel + Leisure is a travel magazine based in New York City, New York. Published 12 times a year, it has 4.8 million readers, according to its corporate media kit. It is put out by American Express Publishing Corporation, which is a wholly owned subsidiary of American Express Company led by...
magazine.
Every April the hotel holds a
Concours d'Elegance
Concours d'Elegance
A Concours d'Elegance dates back to 17th Century French aristocracy, who paraded horse-drawn carriages in the parks of Paris during Summer weekends and holidays...
for vintage and concept cars, the
Concorso d'Eleganza Villa d'Este
Concorso d'Eleganza Villa d'Este
Concorso d'Eleganza Villa d'Este is a renowned elegance competition for classic and vintage cars. It has taken place every year since 1929 during the last weekend of April in Villa d'Este on the shores of Lake Como, Italy...
which was first presented in 1928; in September it hosts the annual
Ambrosetti Forum
Ambrosetti Forum
The Ambrosetti Forum is an annual international economic conference held at Villa d'Este, in the Italian town of Cernobbio on the shores of Lake Como...
, an international workshop attended by prominent figures from the fields of politics, finance and business which has taken place here since 1975.
External links