 Viktor Weber Edler von Webenau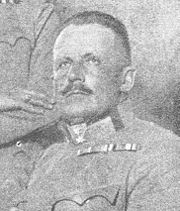 Viktor Weber Edler von Webenau
(* 13 November 1861 in
Neuhaus
Neuhaus, Carinthia
Neuhaus is a small town in the Austrian state of Carinthia, south-east of Klagenfurt, in the district of Völkermarkt, about 4 km from the border with Slovenia.- Geographical Location :...
; † 6 May 1932 in
Innsbruck
Innsbruck
- Main sights :- Buildings :*Golden Roof*Kaiserliche Hofburg *Hofkirche with the cenotaph of Maximilian I, Holy Roman Emperor*Altes Landhaus...
),
General
General
A general officer is an officer of high military rank, usually in the army, and in some nations, the air force. The term is widely used by many nations of the world, and when a country uses a different term, there is an equivalent title given....
in the Austro-Hungarian army while
World War I
World War I
World War I , which was predominantly called the World War or the Great War from its occurrence until 1939, and the First World War or World War I thereafter, was a major war centred in Europe that began on 28 July 1914 and lasted until 11 November 1918...
, military governor of
Montenegro
Montenegro
Montenegro Montenegrin: Crna Gora Црна Гора , meaning "Black Mountain") is a country located in Southeastern Europe. It has a coast on the Adriatic Sea to the south-west and is bordered by Croatia to the west, Bosnia and Herzegovina to the northwest, Serbia to the northeast and Albania to the...
between 1916 and 1917 and head of the Austro-Hungarian armistice commission (Armistice of villa Giusti)
Career
1879: as Kadett-Offizierstellvertreter from Infanteriekadettenschule Liebenau to Feldjägerbataillon 27
01. November 1880: Lieutenant, General staff branch
01. May 1911: Major General and commander 4th Mountain Brigade
25. April 1914: Supreme Military Court
1. July 1914: Vice-President of SMC
1. August 1914: Feldmarschalleutnant
9. April 1915: Commander 47. Infanterie Division
26. February 1916: Military Gouvernour of Montenegro
10. July 1917: Commander X. Corps
1. November 1917: General der Infanterie
7. February 1918: Commander of all mobile troops in the districts of Vienna, Krakow, Lemberg
15. May 1918: Commander XVIII. Corps
July 1918: Commander VI. Corps
27. October - 3. November 1918: Chief of the "Waffenstillstandskommission" with Italy
Family
Viktor Weber Edler von Webenau was married two times:
1886 - 1900: Therese, née Baumgartner
1901 - 1932: Anna, née Hebenstreit
Children
Guido Weber-Webenau (Dr. phil.), (* 13 September 1887 in Tarvis; † ?)
Norbert Weber von Webenau, (* 7 July 1886 in Tarvis; † 26 August 1914 killed in action in Galicia)
Decorations (selection)
Knight's Cross of the Military Maria Theresia Order

Military Order of Maria Theresa

The Military Order of Maria Theresa was an Order of the Austro-Hungarian Empire founded on June 18, 1757, the day of the Battle of Kolin, by the Empress...



Grand Cross of the Franz Joseph Order with War Decoration

Order of Franz Joseph

The Imperial Austrian Franz Joseph Order was founded by the Emperor Franz Joseph I of Austria on December 2, 1849 on the first anniversary of his assumption of the Imperial Crown...



Military Merit Cross 2nd Class with War Decoration and Swords

Military Merit Cross (Austria-Hungary)

The Military Merit Cross was a decoration of the Empire of Austria and, after the establishment of the Dual Monarchy in 1867, the Empire of Austria-Hungary. It was first established on October 22, 1849 and underwent several revisions to its design and award criteria over the years of its existence...



Order of the Iron Crown

Order of the Iron Crown

The Imperial Order of the Iron Crown was established June 5, 1805 by Napoleon Bonaparte . It took its name from the ancient Iron Crown of Lombardy, a medieval jewel with an iron ring, forged from what was supposed to be a nail from the True Cross as a band on the inside. This crown also gave its...


2nd Class with War Decoration and Swords
Officer's Cross of the Franz Joseph Order
Honour Insignia 1st Class of the Austrian Red Cross
Military Merit Cross 3rd Class
Bronze Military Merit Medal with War Decoration (Signum Laudis)
Service Badge for Officers 2nd Class
Military Jubilee Medal 1898
Military Jubilee Cross 1908
Mobilization Cross of 1912/13
Prussian Iron Cross

Iron Cross

The Iron Cross is a cross symbol typically in black with a white or silver outline that originated after 1219 when the Kingdom of Jerusalem granted the Teutonic Order the right to combine the Teutonic Black Cross placed above a silver Cross of Jerusalem....


1st and 2nd Class
Ottoman Iron Crescent
He was additionally appointed a Geheimer Rat (Privy Councillor).
Rank
1 November 1880: Leutnant
1 May 1886: Oberleutnant
1 October 1893: Hauptmann 2. Klasse
1 November 1895: Hauptmann 1. Klasse
1 November 1898: Major
1 May 1902: Oberstleutnant
1 May 1905: Oberst
2 May 1911: Generalmajor
8 August 1914: Feldmarschalleutnant
17 November 1917: General der Infanterie
External links