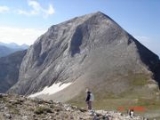 Vihren
Vihren
is the highest peak of
Bulgaria
Bulgaria
Bulgaria , officially the Republic of Bulgaria , is a parliamentary democracy within a unitary constitutional republic in Southeast Europe. The country borders Romania to the north, Serbia and Macedonia to the west, Greece and Turkey to the south, as well as the Black Sea to the east...
's
Pirin Mountains
Pirin
The Pirin Mountains are a mountain range in southwestern Bulgaria, with Vihren the highest peak, situated at . The range extends about 40 km northwest-southeast, and about 25 km wide. Most of the range is protected in the Pirin National Park...
. Reaching 2914 m, it is Bulgaria's second and the
Balkans
Balkans
The Balkans is a geopolitical and cultural region of southeastern Europe...
' third highest, after
Musala
Musala
Musala is the highest peak in Bulgaria and the entire Balkan Peninsula, standing at 2,925 m . The summit of the Rila mountain in southwestern Bulgaria, Musala is the highest peak between the Alps and the Caucasus and the highest in Eastern Europe bar the Caucasus.Between 1949–1962 the peak was...
and
Mount Olympus
Mount Olympus
Mount Olympus is the highest mountain in Greece, located on the border between Thessaly and Macedonia, about 100 kilometres away from Thessaloniki, Greece's second largest city. Mount Olympus has 52 peaks. The highest peak Mytikas, meaning "nose", rises to 2,917 metres...
. The peak is located in Pirin's northern parts. The easiest route is from the Vihren chalet (2,000 m), reaching the summit from the south. Other routes include those from Banderitsa chalet (1,800 m) or across the ridge
Koncheto
Koncheto
Koncheto is a name given to a ridge in the Pirin Mountains in Bulgaria, at an altitude of approximately 2,780 meters, between the peaks Banski Suhodol and Kutelo...
from the north. A number of Pirin's lakes are located around the peak.
Honour
Vihren Peak
Vihren Peak
Vihren Peak is a sharp peak rising to about 1150 m in Levski Ridge of the Tangra Mountains, eastern Livingston Island in the South Shetland Islands, Antarctica overlooking Devnya Valley and Huron Glacier to the north-northwest, and Magura Glacier to the southeast.The feature is named after the...
on Livingston Island in the
South Shetland Islands
South Shetland Islands
The South Shetland Islands are a group of Antarctic islands, lying about north of the Antarctic Peninsula, with a total area of . By the Antarctic Treaty of 1959, the Islands' sovereignty is neither recognized nor disputed by the signatories and they are free for use by any signatory for...
,
Antarctica
is named after Vihren.
FC Vihren Sandanski
FC Vihren Sandanski
FC Vihren is a Bulgarian football club from the town of Sandanski, currently playing in the West B PFG, the second division of Bulgarian football. The club's home ground is the Sandanski Stadium in Sandanski with a capacity of 6,000. Vihren Sandanski's team colours are green and...
is a Bulgarian football club of the same name.