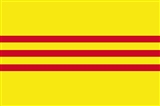 South Vietnam
South Vietnam
was a state which governed southern
Vietnam
Vietnam
Vietnam – sometimes spelled Viet Nam , officially the Socialist Republic of Vietnam – is the easternmost country on the Indochina Peninsula in Southeast Asia. It is bordered by China to the north, Laos to the northwest, Cambodia to the southwest, and the South China Sea –...
until 1975. It received international recognition in 1950 as the "
State of Vietnam
State of Vietnam
The State of Vietnam was a state that claimed authority over all of Vietnam during the First Indochina War, and replaced the Provisional Central Government of Vietnam . The provisional government was a brief transitional administration between colonial Cochinchina and an independent state...
" (1949–55) and later as the "Republic of Vietnam" (1955–75). Its capital was Saigon. The terms "South Vietnam" and "
North Vietnam
North Vietnam
The Democratic Republic of Vietnam , was a communist state that ruled the northern half of Vietnam from 1954 until 1976 following the Geneva Conference and laid claim to all of Vietnam from 1945 to 1954 during the First Indochina War, during which they controlled pockets of territory throughout...
" became common usage in 1954 at the time of the
Geneva Conference
Geneva Conference (1954)
The Geneva Conference was a conference which took place in Geneva, Switzerland, whose purpose was to attempt to find a way to unify Korea and discuss the possibility of restoring peace in Indochina...
, which
partitioned
Partition (politics)
In politics, a partition is a change of political borders cutting through at least one territory considered a homeland by some community. That change is done primarily by diplomatic means, and use of military force is negligible....
Vietnam into
communist
Communism
Communism is a social, political and economic ideology that aims at the establishment of a classless, moneyless, revolutionary and stateless socialist society structured upon common ownership of the means of production...
and non-communist zones at the
17th parallel
Vietnamese Demilitarized Zone
The Vietnamese Demilitarized Zone was established as a dividing line between North and South Vietnam as a result of the First Indochina War.During the Second Indochina War , it became important as the battleground demarcation separating North Vietnamese territory from South Vietnamese territory.-...
.
South Vietnam's origins can be traced to the
French
France
The French Republic , The French Republic , The French Republic , (commonly known as France , is a unitary semi-presidential republic in Western Europe with several overseas territories and islands located on other continents and in the Indian, Pacific, and Atlantic oceans. Metropolitan France...
colony
Colony
In politics and history, a colony is a territory under the immediate political control of a state. For colonies in antiquity, city-states would often found their own colonies. Some colonies were historically countries, while others were territories without definite statehood from their inception....
of
Cochinchina
Cochinchina
Cochinchina is a region encompassing the southern third of Vietnam whose principal city is Saigon. It was a French colony from 1862 to 1954. The later state of South Vietnam was created in 1954 by combining Cochinchina with southern Annam. In Vietnamese, the region is called Nam Bộ...
, a subdivision of
French Indochina
French Indochina
French Indochina was part of the French colonial empire in southeast Asia. A federation of the three Vietnamese regions, Tonkin , Annam , and Cochinchina , as well as Cambodia, was formed in 1887....
, which consisted of the southern third of Vietnam.
1954 First Indochina War: The Geneva Conference partitions Vietnam into North Vietnam and South Vietnam.
1954 Dwight D. Eisenhower pledges United States support to South Vietnam
1955 Operation Passage to Freedom, the evacuation of 310,000 Vietnamese civilians, soldiers and non-Vietnamese members of the French Army from communist North Vietnam to South Vietnam following the end of the First Indochina War, ends.
1955 Ngô Đình Diệm declares himself Premier of South Vietnam.
1957 Ngo Dinh Diem of South Vietnam survived a communist shooting assassination attempt in Ban Me Thuot.
1957 President Ngo Dinh Diem of South Vietnam becomes the first foreign head of state to make a state visit to Australia.
1958 A parcel bomb sent by Ngo Dinh Nhu, younger brother and chief adviser of South Vietnamese President Ngo Dinh Diem, fails to kill King Norodom Sihanouk of Cambodia.
1960 A military coup against President Ngo Dinh Diem of South Vietnam is crushed.
1961 United States President John F. Kennedy sends 18,000 military advisors to South Vietnam.
1963 A protest against pro-Catholic discrimination during the Buddhist crisis is held outside South Vietnam's National Assembly, the first open demonstration during the eight-year rule of Ngo Dinh Diem.