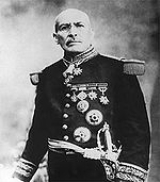 Victoriano Huerta
José Victoriano Huerta Márquez
(
Colotlán
Colotlán
The municipality of Colotlán is located in the northern extremity of the Mexican state of Jalisco. The municipality covers an area of approximately 505 square kilometers...
,
Jalisco
Jalisco
Jalisco officially Estado Libre y Soberano de Jalisco is one of the 31 states which, with the Federal District, comprise the 32 Federal Entities of Mexico. It is located in Western Mexico and divided in 125 municipalities and its capital city is Guadalajara.It is one of the more important states...
, December 22, 1850, – January 13, 1916 in
El Paso
El Paso
El Paso, a city in the U.S. state of Texas, on the border with Mexico.El Paso may also refer to:-Geography:Colombia:* El Paso, CesarSpain:*El Paso, Santa Cruz de TenerifeUnited States:...
,
Texas
Texas
Texas is the second largest U.S. state by both area and population, and the largest state by area in the contiguous United States.The name, based on the Caddo word "Tejas" meaning "friends" or "allies", was applied by the Spanish to the Caddo themselves and to the region of their settlement in...
) was a
Mexican
Mexico
The United Mexican States , commonly known as Mexico , is a federal constitutional republic in North America. It is bordered on the north by the United States; on the south and west by the Pacific Ocean; on the southeast by Guatemala, Belize, and the Caribbean Sea; and on the east by the Gulf of...
military officer and
president of Mexico
President of Mexico
The President of the United Mexican States is the head of state and government of Mexico. Under the Constitution, the president is also the Supreme Commander of the Mexican armed forces...
. Huerta's supporters were known as
Huertistas
during the
Mexican Revolution
Mexican Revolution
The Mexican Revolution was a major armed struggle that started in 1910, with an uprising led by Francisco I. Madero against longtime autocrat Porfirio Díaz. The Revolution was characterized by several socialist, liberal, anarchist, populist, and agrarianist movements. Over time the Revolution...
. Huerta is still vilified by modern-day Mexicans, who generally refer to him as El Chacal — "The Jackal".
Victoriano Huerta was born in the settlement of Agua Gorda within the municipality of Colotlán, Jalisco, son of Jesús Huerta and María Lázara del Refugio Márquez.