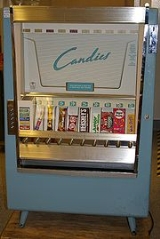 Vending machine
A
vending machine
is a
machine
Machine
A machine manages power to accomplish a task, examples include, a mechanical system, a computing system, an electronic system, and a molecular machine. In common usage, the meaning is that of a device having parts that perform or assist in performing any type of work...
which dispenses items such as snacks, beverages, alcohol, cigarettes, lottery tickets, consumer products and even gold and gems to customers automatically, after the customer inserts
currency
Currency
In economics, currency refers to a generally accepted medium of exchange. These are usually the coins and banknotes of a particular government, which comprise the physical aspects of a nation's money supply...
or
credit
Credit card
A credit card is a small plastic card issued to users as a system of payment. It allows its holder to buy goods and services based on the holder's promise to pay for these goods and services...
into the machine.
The first reference to a vending machine is in the work of
Hero of Alexandria
Hero of Alexandria
Hero of Alexandria was an ancient Greek mathematician and engineerEnc. Britannica 2007, "Heron of Alexandria" who was active in his native city of Alexandria, Roman Egypt...
, a first-century engineer and mathematician. His machine accepted a coin and then dispensed
holy water
Holy water
Holy water is water that, in Catholicism, Anglicanism, Eastern Orthodoxy, Lutheranism, Oriental Orthodoxy, and some other churches, has been sanctified by a priest for the purpose of baptism, the blessing of persons, places, and objects; or as a means of repelling evil.The use for baptism and...
.