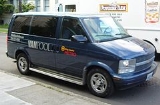 Vanpool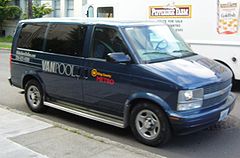 Vanpools
are an element of the transit system that allow groups of people to share the ride similar to a carpool, but on a larger scale with concurrent savings in fuel and vehicle operating costs. Vanpools are the most cost effective mode of public transportation in the United States and the only mode more cost effective than bus.
Vehicles may be provided by individuals, individuals in cooperation with various public and private support programs, through a program operated by or on behalf of an element of government, or a program operated by or on behalf of an employer.
The key concept is that people share the ride from home or one or more common meeting locations and travel together to a common destination or work center.
A number of programs exist (within the United States) to help lower the cost of that shared ride to the end user. Among these are traditional funding available to public agencies, public-private partnerships, and the
Best Work Places for Commuters
(Commuter Choice Programs). A tax benefit is available under
26 U.S. Code §132(f)
Qualified Transportation Fringe Benefit allowances. These public transportation programs seek to reduce the number of cars on the road (with all the attendant environmental benefits).
Additional benefits include:
Speed: The van can use the HOV

HOV

HOV may refer to:* High-occupancy vehicle lane* Ørsta-Volda Airport, Hovden in Hovden, Norway* Hovig* A small street gang located in Naperville* see Hov...


(High Occupancy Vehicle) lanes because normally more than 2-3 people ride.
Fixed schedule (makes life more predictable).
Saving the cost of gasoline

Gasoline

Gasoline , or petrol , is a toxic, translucent, petroleum-derived liquid that is primarily used as a fuel in internal combustion engines. It consists mostly of organic compounds obtained by the fractional distillation of petroleum, enhanced with a variety of additives. Some gasolines also contain...


(in some cases, it is part of the program).
Riders often can have significant reductions in the cost of personal automobile insurance

Vehicle insurance

Vehicle insurance is insurance purchased for cars, trucks, motorcycles, and other road vehicles. Its primary use is to provide financial protection against physical damage and/or bodily injury resulting from traffic collisions and against liability that could also arise therefrom...


(insurance for the rideshare component is usually provided as part of the vanpool program).
In many cases, an employer may elect to subsidize the cost of the vanpool and the vehicles' maintenance. In some cases, the vehicles are provided and maintained by the municipality; in others in partnership with or by a third-party provider. For example, UCLA operates an extensive network of vans, in which faculty, staff and students are eligible for discounted rates, although anyone commuting to the Westwood area is allowed to participate, with drivers receiving the highest discounts. The vans are centrally maintained, fueled, and cleaned.
The
King County Metro Vanpool Program
is a successful US program in the
Puget Sound
Puget Sound
Puget Sound is a sound in the U.S. state of Washington. It is a complex estuarine system of interconnected marine waterways and basins, with one major and one minor connection to the Strait of Juan de Fuca and the Pacific Ocean — Admiralty Inlet being the major connection and...
area, specifically in
King County, Washington
King County, Washington
King County is a county located in the U.S. state of Washington. The population in the 2010 census was 1,931,249. King is the most populous county in Washington, and the 14th most populous in the United States....
. Another successful program is operated by
Pace
Pace (transit)
Pace is the suburban bus division of the Regional Transportation Authority in the Chicago metropolitan area. It was created in 1983 by the RTA Act, which established the formula that provides funding to CTA, Metra and Pace. In 2010, Pace had 35.077 million riders. Pace's headquarters are in...
in
Illinois
Illinois
Illinois is the fifth-most populous state of the United States of America, and is often noted for being a microcosm of the entire country. With Chicago in the northeast, small industrial cities and great agricultural productivity in central and northern Illinois, and natural resources like coal,...
.
The oldest multi-employer vanpool program in the country is in Treasure Valley, Idaho. For over 30 years Ada County Highway District's Commuteride
http://www.commuteride.com
Vanpools have been crisscrossing the Valley helping commuters go to and from work, with their numerous vanpool routes traveling throughout the Treasure Valley. The Vanpools also service the Military at Gowen Field and Mountain Home Air Force Base (MHAFB) with multiple routes to and from Ada and Canyon County. ACHD Commuteride serves the cities, Boise, Meridian, Kuna, Garden City, Eagle and Star aswell as Ada County.
Private firms operate vanpools for individuals, as well as in cooperation with employers or under contract.
External links