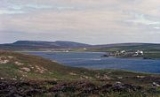 Uyeasound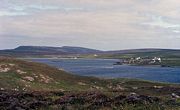 Uyeasound
is a village on the Isle of
Unst
Unst
Unst is one of the North Isles of the Shetland Islands, Scotland. It is the northernmost of the inhabited British Isles and is the third largest island in Shetland after the Mainland and Yell. It has an area of .Unst is largely grassland, with coastal cliffs...
, the northernmost island of the
Shetland Islands
Shetland Islands
Shetland is a subarctic archipelago of Scotland that lies north and east of mainland Great Britain. The islands lie some to the northeast of Orkney and southeast of the Faroe Islands and form part of the division between the Atlantic Ocean to the west and the North Sea to the east. The total...
,
Scotland
Scotland
Scotland is a country that is part of the United Kingdom. Occupying the northern third of the island of Great Britain, it shares a border with England to the south and is bounded by the North Sea to the east, the Atlantic Ocean to the north and west, and the North Channel and Irish Sea to the...
. It takes its name from the neighbouring strait of the same name, which looks over to the Isle of Uyea
Uyeasound is home to Greenwell's Booth, a
Hanseatic
Hanseatic League
The Hanseatic League was an economic alliance of trading cities and their merchant guilds that dominated trade along the coast of Northern Europe...
warehouse and
Muness Castle
Muness Castle
Muness Castle lies in the south east corner of Unst, Shetland; Scotland's most northerly inhabited island, not far from the rocky headland of Mu Ness...
.