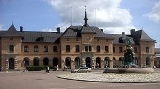 Uppsala Central Station
Uppsala Central Station
is a railway station located at
Uppsala
Uppsala
- Economy :Today Uppsala is well established in medical research and recognized for its leading position in biotechnology.*Abbott Medical Optics *GE Healthcare*Pfizer *Phadia, an offshoot of Pharmacia*Fresenius*Q-Med...
in
Uppsala Municipality
Uppsala Municipality
Uppsala Municipality is a municipality in Uppsala County in east central Sweden. Uppsala has a population of 200,032 . Its seat is located in the university city of Uppsala....
,
Sweden
Sweden
Sweden , officially the Kingdom of Sweden , is a Nordic country on the Scandinavian Peninsula in Northern Europe. Sweden borders with Norway and Finland and is connected to Denmark by a bridge-tunnel across the Öresund....
. It lies on
Ostkustbanan
(the East Coast Line), which runs south to
Stockholm
Stockholm
Stockholm is the capital and the largest city of Sweden and constitutes the most populated urban area in Scandinavia. Stockholm is the most populous city in Sweden, with a population of 851,155 in the municipality , 1.37 million in the urban area , and around 2.1 million in the metropolitan area...
and north to
Gävle
Gävle
Gävle is a city in Sweden, the seat of Gävle Municipality and the capital of Gävleborg County. It had 71,033 inhabitants in 12/31 2010. It is the oldest city in the historical Norrland , having received its charter in 1446 from Christopher of Bavaria.-History:It is believed that the name Gävle...
and
Sundsvall
Sundsvall
-External links:* - Official site from Nordisk Familjebok - Sundsvalls tourist information bureau. - The alternative guide to Sundsvall. - Blog with photos from Sundsvall....
and it is one of the termini for
Dalabanan
(the Dalarna Line) which runs northwest ending in Mora. There are frequent services to Stockholm, and inter-city services including
X 2000
X 2000
X 2000 is the brand name of Sweden's tilting 200 km/h high-speed train class X2, which was constructed by Kalmar Verkstad in Kalmar, Sweden and operated by SJ. It was launched in 1990 as a first-class only train with a meal included in the ticket price, and free use of the train's fax machine...
expresses connect Uppsala to the north. Many trains, including the local
Upptåget
, also leave the main line to connect Uppsala with
Stockholm-Arlanda Airport
Stockholm-Arlanda Airport
Stockholm Arlanda Airport , is an international airport located in the Sigtuna Municipality of Sweden, near the town of Märsta, north of Stockholm and nearly , by road, south-east of Uppsala....
.
Next to the station is a hub for
Upplands Lokaltrafik
Upplands Lokaltrafik
Upplands Lokaltrafik is the primary operator of public transport buses and trains at the county level in Uppsala County, Sweden. Their name is derived from the historical province of Uppland, which included the modern county along with part of what is now Stockholm County.The green city buses in...
's regional coach services. Many local bus routes run through or near the station grounds as well, and there is a large area set aside for bicycle parking.
From 2005 through 2011, the station site is being renovated to build the Resecentrum (Travel Centre). This project includes:
a new station building, just to the south of the existing one — construction 2009–2010
a tunnel under the tracks for pedestrians and bicycles (at present, passengers must walk across the tracks to reach most platforms)
Stadhusgatan, a bus-only road on the west side of the station, so that passengers no longer need to cross Kungsgatan to reach southbound buses (northbound buses remain on the near side of Kungsgatan) — already in place
Stationsgatan, a new road extending Storgatan on the east side of the station — already in place
a new car park, and more bicycle parking
a new public square, and various beautification projects
According to an opinion poll, published in
Uppsalatidningen
Uppsalatidningen
Uppsalatidningen is a politically independent free newspaper in Uppsala, Sweden, which is published by Direct Press. The magazine was first published January 16, 2005 and is distributed to all households in Uppsala. In many public places in Uppsala and its surroundings it can also be found in...
January 14, 2011, where 1,247 people had been asked whether they believed that the new centre was important for Uppsala as a cultural centre and university town, and for the commercial activity in the area, 47% of the respondents stated that they believed it to be "very important" and 34% answered "fairly important".