 University of Évora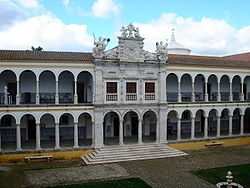 The
University of Évora
is a
public university
Public university
A public university is a university that is predominantly funded by public means through a national or subnational government, as opposed to private universities. A national university may or may not be considered a public university, depending on regions...
in
Évora
Évora
Évora is a municipality in Portugal. It has total area of with a population of 55,619 inhabitants. It is the seat of the Évora District and capital of the Alentejo region. The municipality is composed of 19 civil parishes, and is located in Évora District....
,
Portugal
Portugal
Portugal , officially the Portuguese Republic is a country situated in southwestern Europe on the Iberian Peninsula. Portugal is the westernmost country of Europe, and is bordered by the Atlantic Ocean to the West and South and by Spain to the North and East. The Atlantic archipelagos of the...
.
History
The University of Évora, the second oldest in Portugal, was founded in the 16th century (1559) by Cardinal Infante Dom Henrique (the future king of Portugal), and by the
Pope Paul IV
Pope Paul IV
Pope Paul IV, C.R. , né Giovanni Pietro Carafa, was Pope from 23 May 1555 until his death.-Early life:Giovanni Pietro Carafa was born in Capriglia Irpina, near Avellino, into a prominent noble family of Naples...
, and it was delivered to the
Society of Jesus
Society of Jesus
The Society of Jesus is a Catholic male religious order that follows the teachings of the Catholic Church. The members are called Jesuits, and are also known colloquially as "God's Army" and as "The Company," these being references to founder Ignatius of Loyola's military background and a...
.
The Jesuit
college
College
A college is an educational institution or a constituent part of an educational institution. Usage varies in English-speaking nations...
(
Colégio do Espírito Santo
) in Évora operated between 1559 and 1759. In this year and as a consequence of the Jesuit expulsion promoted by the Minister of the Kingdom
Marquis of Pombal
Sebastião de Melo, Marquis of Pombal
Sebastião José de Carvalho e Melo, 1st Count of Oeiras, 1st Marquess of Pombal Sebastião José de Carvalho e Melo, 1st Count of Oeiras, 1st Marquess of Pombal Sebastião José de Carvalho e Melo, 1st Count of Oeiras, 1st Marquess of Pombal ((Marquês de Pombal, ; 13 May 1699–8 May 1782) was an 18th...
, it was closed.
The
Colégio do Espírito Santo
became famed as a centre of learning and rivalled the
University of Coimbra
. Among its eminent theologians and philosophers were Luis de Molina (1535-1600), Pedro de Fonseca (1528-1599), St. Francisco de Borja, St. João de Brito, Manuel Álvares. Several prelates of the Portuguese Empire were trained at this university: D. Afonso Mendes, Patriarch of Abyssinia, and D. Pedro Martins, first bishop of Japan. The classrooms are decorated with appropriate
azulejo

Azulejo

Azulejo from the Arabic word Zellige زليج is a form of Portuguese or Spanish painted, tin-glazed, ceramic tilework. They have become a typical aspect of Portuguese culture, having been produced without interruption for five centuries...


s
(ceramic tiles) such as "
Plato
Plato
Plato , was a Classical Greek philosopher, mathematician, student of Socrates, writer of philosophical dialogues, and founder of the Academy in Athens, the first institution of higher learning in the Western world. Along with his mentor, Socrates, and his student, Aristotle, Plato helped to lay the...
teaching his followers" and "
Aristotle
Aristotle
Aristotle was a Greek philosopher and polymath, a student of Plato and teacher of Alexander the Great. His writings cover many subjects, including physics, metaphysics, poetry, theater, music, logic, rhetoric, linguistics, politics, government, ethics, biology, and zoology...
teaching
Alexander the Great
".
The University of Évora resumed work in 1973 as a state-run university. The diplomas are granted in the 18th century
Baroque
Baroque
The Baroque is a period and the style that used exaggerated motion and clear, easily interpreted detail to produce drama, tension, exuberance, and grandeur in sculpture, painting, literature, dance, and music...
chapel (
Sala dos Actos
) (restored in 1973), that dominates the
Tuscan
Tuscany
Tuscany is a region in Italy. It has an area of about 23,000 square kilometres and a population of about 3.75 million inhabitants. The regional capital is Florence ....
-arched Renaissance
cloister
Cloister
A cloister is a rectangular open space surrounded by covered walks or open galleries, with open arcades on the inner side, running along the walls of buildings and forming a quadrangle or garth...
.
See also
List of universities in Portugal
Higher education in Portugal

Higher education in Portugal

Higher education in Portugal is divided into two main subsystems: university and polytechnic education. It is provided in autonomous public universities, private universities, public or private university institutes, polytechnic institutions and higher education institutions of other types...



External links