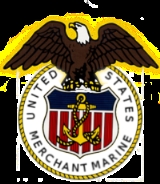 United States Merchant Marine
The
United States Merchant Marine
refers to the fleet of
U.S.
United States
The United States of America is a federal constitutional republic comprising fifty states and a federal district...
civilian-owned
merchant vessel
Merchant vessel
A merchant vessel is a ship that transports cargo or passengers. The closely related term commercial vessel is defined by the United States Coast Guard as any vessel engaged in commercial trade or that carries passengers for hire...
s, operated by either the government or the
private sector
Private sector
In economics, the private sector is that part of the economy, sometimes referred to as the citizen sector, which is run by private individuals or groups, usually as a means of enterprise for profit, and is not controlled by the state...
, that engage in commerce or transportation of goods and services in and out of the navigable waters of the United States. The Merchant Marine is responsible for transporting cargo and passengers during peace time. In time of war, the Merchant Marine is an auxiliary to the
Navy
United States Navy
The United States Navy is the naval warfare service branch of the United States Armed Forces and one of the seven uniformed services of the United States. The U.S. Navy is the largest in the world; its battle fleet tonnage is greater than that of the next 13 largest navies combined. The U.S...
, and can be called upon to deliver troops and supplies for the military.
Merchant mariners move cargo and passengers between nations and within the United States, operate and maintain deep-sea merchant ships, tugboats, towboats,
ferries
Ferry
A ferry is a form of transportation, usually a boat, but sometimes a ship, used to carry primarily passengers, and sometimes vehicles and cargo as well, across a body of water. Most ferries operate on regular, frequent, return services...
, dredges, excursion vessels, and other waterborne craft on the oceans, the
Great Lakes
Great Lakes
The Great Lakes are a collection of freshwater lakes located in northeastern North America, on the Canada – United States border. Consisting of Lakes Superior, Michigan, Huron, Erie, and Ontario, they form the largest group of freshwater lakes on Earth by total surface, coming in second by volume...
,
river
River
A river is a natural watercourse, usually freshwater, flowing towards an ocean, a lake, a sea, or another river. In a few cases, a river simply flows into the ground or dries up completely before reaching another body of water. Small rivers may also be called by several other names, including...
s,
canal
Canal
Canals are man-made channels for water. There are two types of canal:#Waterways: navigable transportation canals used for carrying ships and boats shipping goods and conveying people, further subdivided into two kinds:...
s,
harbor
Harbor
A harbor or harbour , or haven, is a place where ships, boats, and barges can seek shelter from stormy weather, or else are stored for future use. Harbors can be natural or artificial...
s, and other waterways.
As of 2006, the United States merchant fleet numbered 465 ships and approximately 100,000 members.