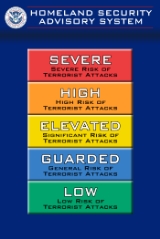 United States Department of Homeland Security
The
United States Department of Homeland Security
(
DHS
) is a
cabinet
United States Cabinet
The Cabinet of the United States is composed of the most senior appointed officers of the executive branch of the federal government of the United States, which are generally the heads of the federal executive departments...
department
United States Federal Executive Departments
The United States federal executive departments are among the oldest primary units of the executive branch of the federal government of the United States—the Departments of State, War, and the Treasury all being established within a few weeks of each other in 1789.Federal executive...
of the
United States
United States
The United States of America is a federal constitutional republic comprising fifty states and a federal district...
federal government
Federal government of the United States
The federal government of the United States is the national government of the constitutional republic of fifty states that is the United States of America. The federal government comprises three distinct branches of government: a legislative, an executive and a judiciary. These branches and...
, created in response to the September 11 attacks, and with the primary responsibilities of protecting the territory of the United States and protectorates from and responding to
terrorist attacks
Terrorism
Terrorism is the systematic use of terror, especially as a means of coercion. In the international community, however, terrorism has no universally agreed, legally binding, criminal law definition...
, man-made
accident
Accident
An accident or mishap is an unforeseen and unplanned event or circumstance, often with lack of intention or necessity. It implies a generally negative outcome which may have been avoided or prevented had circumstances leading up to the accident been recognized, and acted upon, prior to its...
s, and
natural disaster
Natural disaster
A natural disaster is the effect of a natural hazard . It leads to financial, environmental or human losses...
s. In fiscal year 2011 it was allocated a budget of $98.8 billion and spent, net, $66.4 billion.
Whereas the
Department of Defense
United States Department of Defense
The United States Department of Defense is the U.S...
is charged with
military
Military
A military is an organization authorized by its greater society to use lethal force, usually including use of weapons, in defending its country by combating actual or perceived threats. The military may have additional functions of use to its greater society, such as advancing a political agenda e.g...
actions abroad, the Department of Homeland Security works in the civilian sphere to protect the United States within, at, and outside its borders.