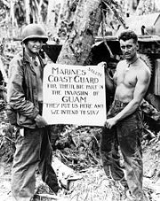 United States Coast Guard
The
United States Coast Guard
(
USCG
) is a branch of the
United States Armed Forces
United States armed forces
The United States Armed Forces are the military forces of the United States. They consist of the Army, Navy, Marine Corps, Air Force, and Coast Guard.The United States has a strong tradition of civilian control of the military...
and one of the seven U.S.
uniformed services
Uniformed services of the United States
The United States has seven federal uniformed services that commission officers as defined by Title 10, and subsequently structured and organized by Title 10, Title 14, Title 33 and Title 42 of the United States Code.-Uniformed services:...
. The Coast Guard is a
maritime
Sea
A sea generally refers to a large body of salt water, but the term is used in other contexts as well. Most commonly, it means a large expanse of saline water connected with an ocean, and is commonly used as a synonym for ocean...
, military, multi-mission service unique among the military branches for having a
maritime law enforcement
Admiralty law
Admiralty law is a distinct body of law which governs maritime questions and offenses. It is a body of both domestic law governing maritime activities, and private international law governing the relationships between private entities which operate vessels on the oceans...
mission (with jurisdiction in both domestic and international waters) and a
federal
Federal government of the United States
The federal government of the United States is the national government of the constitutional republic of fifty states that is the United States of America. The federal government comprises three distinct branches of government: a legislative, an executive and a judiciary. These branches and...
regulatory agency mission as part of its mission set. It operates under the Department of Homeland Security during peacetime, and can be transferred to the Department of the Navy by the President at any time, or by Congress during time of war.
Founded by
Alexander Hamilton
Alexander Hamilton
Alexander Hamilton was a Founding Father, soldier, economist, political philosopher, one of America's first constitutional lawyers and the first United States Secretary of the Treasury...
as the
Revenue Cutter Service
United States Revenue Cutter Service
The United States Revenue Cutter Service was established by Secretary of the Treasury Alexander Hamilton in 1790 as an armed maritime law enforcement service. Throughout its entire existence the Revenue Cutter Service operated under the authority of the United States Department of the Treasury...
on 4 August 1790, it lays claim to being the United States' oldest continuous seagoing service.