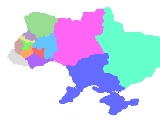 Ukrainian Greek Catholic Church
The
Ukrainian Greek Catholic Church
(UGCC) (Українська Греко-Католицька Церква (УГКЦ),
Ukrainska Hreko-Katolytska Tserkva
), is the largest Eastern Rite Catholic
sui juris
particular church
Particular Church
In Catholic canon law, a Particular Church is an ecclesial community headed by a bishop or someone recognised as the equivalent of a bishop.There are two kinds of particular Churches:# Local particular Churches ...
in
full communion
Full communion
In Christian ecclesiology, full communion is a relationship between church organizations or groups that mutually recognize their sharing the essential doctrines....
with the
Holy See
Holy See
The Holy See is the episcopal jurisdiction of the Catholic Church in Rome, in which its Bishop is commonly known as the Pope. It is the preeminent episcopal see of the Catholic Church, forming the central government of the Church. As such, diplomatically, and in other spheres the Holy See acts and...
, and is directly subject to the
Pope
Pope
The Pope is the Bishop of Rome, a position that makes him the leader of the worldwide Catholic Church . In the Catholic Church, the Pope is regarded as the successor of Saint Peter, the Apostle...
. The
Primate
Primate (religion)
Primate is a title or rank bestowed on some bishops in certain Christian churches. Depending on the particular tradition, it can denote either jurisdictional authority or ceremonial precedence ....
of the Church holds the office of Archbishop-Major of
Kiev
Kiev
Kiev or Kyiv is the capital and the largest city of Ukraine, located in the north central part of the country on the Dnieper River. The population as of the 2001 census was 2,611,300. However, higher numbers have been cited in the press....
-
Halych
Halych
Halych is a historic city on the Dniester River in western Ukraine. The town gave its name to the historic province and kingdom of Kingdom of Galicia–Volhynia, of which it was the capital until the early 14th century, when the seat of the local princes was moved to Lviv...
and All Rus, though the hierarchs of the church have acclaimed their primate "
Patriarch
Patriarch
Originally a patriarch was a man who exercised autocratic authority as a pater familias over an extended family. The system of such rule of families by senior males is called patriarchy. This is a Greek word, a compound of πατριά , "lineage, descent", esp...
" and have requested Papal recognition of, and elevation to, this title.