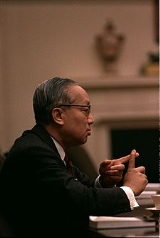 U Thant
U Thant
was a Burmese diplomat and the third Secretary-General of the United Nations, from 1961 to 1971. He was chosen for the post when his predecessor,
Dag Hammarskjöld
Dag Hammarskjöld
Dag Hjalmar Agne Carl Hammarskjöld was a Swedish diplomat, economist, and author. An early Secretary-General of the United Nations, he served from April 1953 until his death in a plane crash in September 1961. He is the only person to have been awarded a posthumous Nobel Peace Prize. Hammarskjöld...
, died in September 1961.
"U" is an
honorific
Honorific
An honorific is a word or expression with connotations conveying esteem or respect when used in addressing or referring to a person. Sometimes, the term is used not quite correctly to refer to an honorary title...
in
Burmese
Burmese language
The Burmese language is the official language of Burma. Although the constitution officially recognizes it as the Myanmar language, most English speakers continue to refer to the language as Burmese. Burmese is the native language of the Bamar and related sub-ethnic groups of the Bamar, as well as...
, roughly equal to "Mr". "Thant" was his only name. In Burmese he was known as
Pantanaw U Thant
, in reference to his home town of
Pantanaw
Pantanaw
Pantanaw is a town in the Ayeyarwady Region of south-west Myanmar. It is the seat of the Pantanaw Township in the Maubin District. It is the hometown of former United Nations Secretary-General U Thant and of the renowned artist U Ba Nyan....
.
Thant was born in Pantanaw,
Lower Burma
Lower Burma
Lower Burma is a geographic region of Burma and includes the low-lying Irrawaddy delta , as well as coastal regions of the country ....
, and was educated at the National High School in Pantanaw and at University College,
Rangoon
Yangon
Yangon is a former capital of Burma and the capital of Yangon Region . Although the military government has officially relocated the capital to Naypyidaw since March 2006, Yangon, with a population of over four million, continues to be the country's largest city and the most important commercial...
, where he studied history.
Every human being, of whatever origin, of whatever station, deserves respect. We must each respect others even as we respect ourselves.

The war we have to wage today has only one goal and that is to make the world safe for diversity.

Wars begin in the minds of men, and in those minds, love and compassion would have built the defenses of peace.

As a Buddhist, I was trained to be tolerant of everything except intolerance

When asked why he showed no emotion when informed of his sons death Thant replied "I believe that I have attained a greater degree of emotional equilibrium than most people"