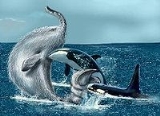 Trunko
Trunko
is the nickname for an
animal
Animal
Animals are a major group of multicellular, eukaryotic organisms of the kingdom Animalia or Metazoa. Their body plan eventually becomes fixed as they develop, although some undergo a process of metamorphosis later on in their life. Most animals are motile, meaning they can move spontaneously and...
or
globster
Globster
A globster, or blob, is an unidentified organic mass that washes up on the shoreline of an ocean or other body of water. The term was coined by Ivan T. Sanderson in 1962 to describe the Tasmanian carcass of 1960, which was said to have "no visible eyes, no defined head, and no apparent bone...
reportedly sighted in
Margate
Margate, KwaZulu-Natal
Margate is a seaside resort town on the KwaZulu-Natal South Coast, just about 20 kilometres southwest of Port Shepstone. The river which flows into the sea at Margate is called "Nkhongweni" because the original inhabitants were reputed to be so mean that travellers had to beg for hospitality...
,
South Africa
South Africa
The Republic of South Africa is a country in southern Africa. Located at the southern tip of Africa, it is divided into nine provinces, with of coastline on the Atlantic and Indian oceans...
, on October 25, 1924, according to an article entitled "Fish Like A Polar Bear" published in the December 27, 1924, edition of
London
London
London is the capital city of :England and the :United Kingdom, the largest metropolitan area in the United Kingdom, and the largest urban zone in the European Union by most measures. Located on the River Thames, London has been a major settlement for two millennia, its history going back to its...
's
Daily Mail
Daily Mail
The Daily Mail is a British daily middle-market tabloid newspaper owned by the Daily Mail and General Trust. First published in 1896 by Lord Northcliffe, it is the United Kingdom's second biggest-selling daily newspaper after The Sun. Its sister paper The Mail on Sunday was launched in 1982...
. The animal was reputedly first seen off the coast battling two
killer whales
Orca
The killer whale , commonly referred to as the orca, and less commonly as the blackfish, is a toothed whale belonging to the oceanic dolphin family. Killer whales are found in all oceans, from the frigid Arctic and Antarctic regions to tropical seas...
, which fought the unusual creature for three hours. It used its tail to attack the whales and reportedly lifted itself out of the water by about 20 feet. One of the witnesses, Hugh Ballance, described the animal as looking like a "giant
polar bear
Polar Bear
The polar bear is a bear native largely within the Arctic Circle encompassing the Arctic Ocean, its surrounding seas and surrounding land masses. It is the world's largest land carnivore and also the largest bear, together with the omnivorous Kodiak Bear, which is approximately the same size...
" during a final fight.
Description
The creature reputedly washed up on Margate Beach but despite being there for 10 days, no scientist ever investigated the carcass while it was beached, so no reliable description has been published, and until September 2010 it was assumed that no
photograph
Photograph
A photograph is an image created by light falling on a light-sensitive surface, usually photographic film or an electronic imager such as a CCD or a CMOS chip. Most photographs are created using a camera, which uses a lens to focus the scene's visible wavelengths of light into a reproduction of...
s of it had ever been published. Some people who have never been identified were reported to have described the animal as possessing snowy-white
fur
Fur
Fur is a synonym for hair, used more in reference to non-human animals, usually mammals; particularly those with extensives body hair coverage. The term is sometimes used to refer to the body hair of an animal as a complete coat, also known as the "pelage". Fur is also used to refer to animal...
, an
elephant
Elephant
Elephants are large land mammals in two extant genera of the family Elephantidae: Elephas and Loxodonta, with the third genus Mammuthus extinct...
ine trunk, a
lobster
Lobster
Clawed lobsters comprise a family of large marine crustaceans. Highly prized as seafood, lobsters are economically important, and are often one of the most profitable commodities in coastal areas they populate.Though several groups of crustaceans are known as lobsters, the clawed lobsters are most...
-like
tail
Tail
The tail is the section at the rear end of an animal's body; in general, the term refers to a distinct, flexible appendage to the torso. It is the part of the body that corresponds roughly to the sacrum and coccyx in mammals, reptiles, and birds...
, and a carcass devoid of
blood
Blood
Blood is a specialized bodily fluid in animals that delivers necessary substances such as nutrients and oxygen to the cells and transports metabolic waste products away from those same cells....
.
While it was beached, the animal was measured by beach-goers and turned out to be 47 ft (14.3 m) in length, 10 ft (3 m) wide, and 5 ft (1.5 m) high, with the trunk's length being 5 ft (1.5 m), the trunk's diameter 14 in (35.6 cm), the tail 10 ft (3 m), and the fur being 8 in (20.3 cm) long. The trunk was said to be attached directly to the animal's
torso
Torso
Trunk or torso is an anatomical term for the central part of the many animal bodies from which extend the neck and limbs. The trunk includes the thorax and abdomen.-Major organs:...
, as no head was visible on the carcass. For this feature, the animal was dubbed "Trunko" by British cryptozoologist
Karl Shuker
Karl Shuker
Karl P. N. Shuker is a British zoologist, cryptozoologist, and author living in the West Midlands, England. He works as a full-time freelance zoological consultant, media consultant, and noted author specializing in cryptozoology.- Career :...
in his 1996 book
The Unexplained
. In the March 27, 1925, edition of the
Charleroi Mail
, in
Charleroi
Charleroi, Pennsylvania
Charleroi is a borough in Washington County, Pennsylvania, along the Monongahela River, 25 miles south of Pittsburgh. Charleroi was settled in 1890 and incorporated in 1891. The population in 1900 stood at 5,930; in 1910, 9,615; in 1920, 11,516, and in 1940, 10,784...
,
Pennsylvania
Pennsylvania
The Commonwealth of Pennsylvania is a U.S. state that is located in the Northeastern and Mid-Atlantic regions of the United States. The state borders Delaware and Maryland to the south, West Virginia to the southwest, Ohio to the west, New York and Ontario, Canada, to the north, and New Jersey to...
, an article entitled "Whales Slain By Hairy Monster" reported that whales there were killed by a strange creature which was washed up on a beach exhausted and fell
unconscious
Unconsciousness
Unconsciousness is the condition of being not conscious—in a mental state that involves complete or near-complete lack of responsiveness to people and other environmental stimuli. Being in a comatose state or coma is a type of unconsciousness. Fainting due to a drop in blood pressure and a...
, but made its way back into the ocean and swam away after 10 days, never to be seen again.
Explanations
Many suggestions have been made to explain this phenomenon, the most common explanation being that Trunko was the carcass of a large whale,
basking shark
Basking shark
The basking shark is the second largest living fish, after the whale shark. It is a cosmopolitan migratory species, found in all the world's temperate oceans. It is a slow moving and generally harmless filter feeder and has anatomical adaptations to filter feeding, such as a greatly enlarged...
, or
whale shark
Whale shark
The whale shark, Rhincodon typus, is a slow-moving filter feeding shark, the largest extant fish species. The largest confirmed individual had a length of and a weight of more than , but unconfirmed claims report considerably larger whale sharks...
, whose body's decay made it appear furry and that the orcas were feasting on its corpse. It has also been suggested that Trunko was a sighting of a strange-looking new species of huge whale, unknown
pinniped
Pinniped
Pinnipeds or fin-footed mammals are a widely distributed and diverse group of semiaquatic marine mammals comprising the families Odobenidae , Otariidae , and Phocidae .-Overview: Pinnipeds are typically sleek-bodied and barrel-shaped...
, or sirenian. One of the more sceptical explanations was an albinotic
southern elephant seal
Southern Elephant Seal
The Southern Elephant Seal is one of the two extant species of elephant seal. It is both the most massive pinniped and member of the order Carnivora living today...
. It has generally been considered to be a
cryptid
Cryptid
In cryptozoology and sometimes in cryptobotany, a cryptid is a creature or plant whose existence has been suggested but is unrecognized by scientific consensus and often regarded as highly unlikely. Famous examples include the Yeti in the Himalayas and the Loch Ness Monster in...
, part of the field of
cryptozoology
Cryptozoology
Cryptozoology refers to the search for animals whose existence has not been proven...
.
On 6 September 2010, however, the long-awaited identity of Trunko was finally revealed. Karl Shuker announced that a hitherto-unknown photograph of Trunko had been discovered by German cryptozoologist Markus Hemmler on the website of the Margate Business Association, and Shuker recognised from this photo that Trunko had been nothing more than a globster, i.e. a massive, tough skin-sac of
blubber
Blubber
Blubber is a thick layer of vascularized adipose tissue found under the skin of all cetaceans, pinnipeds and sirenians.-Description:Lipid-rich, collagen fiber–laced blubber comprises the hypodermis and covers the whole body, except for parts of the appendages, strongly attached to the musculature...
containing
collagen
Collagen
Collagen is a group of naturally occurring proteins found in animals, especially in the flesh and connective tissues of mammals. It is the main component of connective tissue, and is the most abundant protein in mammals, making up about 25% to 35% of the whole-body protein content...
that is sometimes left behind when a whale dies and its skull and skeleton have separated from the skin and sunk to the sea bottom. The photo had been snapped by
Johannesburg
Johannesburg
Johannesburg also known as Jozi, Jo'burg or Egoli, is the largest city in South Africa, by population. Johannesburg is the provincial capital of Gauteng, the wealthiest province in South Africa, having the largest economy of any metropolitan region in Sub-Saharan Africa...
photographer A. C. Jones, who had visited Trunko's remains while they were beached. Three days later, Shuker revealed that he and Hemmler had independently discovered two more photos of Trunko by Jones that had been published in the August 1925 issue of
Wide World Magazine
. These close-up photos showed a classic globster, confirming Shuker's identification of Trunko, and clearly revealed its white 'fur' to be exposed connective tissue fibres. So it was the sight of two whales some distance out to sea tossing this globsterised mass into the air, a common practice, that had fooled observers on Margate Beach into assuming that it was alive. Instead, Trunko as a living, white-furred, elephant-trunked cryptid had never existed after all. Perhaps the most surprising aspect of this revelation is that two photos of the Trunko carcass had been published in a mainstream magazine in 1925, yet had somehow been entirely overlooked afterwards by the zoological and cryptozoological community for the next 85 years.
In March 2011, a fourth photograph of Trunko was discovered in the archives of Margate Museum in South Africa by Bianca Baldi.
External links