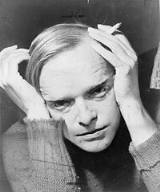 Truman Capote
Truman Streckfus Persons
(September 30, 1924 – August 25, 1984), known as
Truman Capote
(icon), was an American author, many of whose
short stories
Short Stories
Short Stories may refer to:*A plural for Short story*Short Stories , an American pulp magazine published from 1890-1959*Short Stories, a 1954 collection by O. E...
,
novel
Novel
A novel is a book of long narrative in literary prose. The genre has historical roots both in the fields of the medieval and early modern romance and in the tradition of the novella. The latter supplied the present generic term in the late 18th century....
s,
play
Play (theatre)
A play is a form of literature written by a playwright, usually consisting of scripted dialogue between characters, intended for theatrical performance rather than just reading. There are rare dramatists, notably George Bernard Shaw, who have had little preference whether their plays were performed...
s, and nonfiction are recognized literary classics, including the
novella
Novella
A novella is a written, fictional, prose narrative usually longer than a novelette but shorter than a novel. The Science Fiction and Fantasy Writers of America Nebula Awards for science fiction define the novella as having a word count between 17,500 and 40,000...
Breakfast at Tiffany's
Breakfast at Tiffany's (novella)
Breakfast at Tiffany's is a novella by Truman Capote published in 1958. The main character, Holly Golightly, is one of Capote's best-known creations and an American cultural icon.-Plot:...
(
1958
1958 in literature
The year 1958 in literature involved some significant events and new books.-Events:*August 18 - Vladimir Nabokov's controversial novel Lolita is published in United States.*First volume of The Civil War by Shelby Foote is published....
) and the
true crime
True crime
True crime is a non-fiction literary and film genre in which the author examines an actual crime and details the actions of real people.The crimes most commonly include murder, but true crime works have also touched on other legal cases. Depending on the writer, true crime can adhere strictly to...
novel
In Cold Blood
In Cold Blood
In Cold Blood is a 1966 book by Truman Capote.In Cold Blood may also refer to:* In Cold Blood , a 1967 film and 1996 miniseries, both based on the book* In Cold Blood...
(
1966
1966 in literature
The year 1966 in literature involved some significant events and new books.-Events:*February 14 - Dissident writers Yuli Daniel and Andrei Sinyavsky are sentenced to hard labour for "anti-Soviet activity"....
), which he labeled a "
nonfiction novel
Non-fiction novel
The non-fiction novel is a literary genre which, broadly speaking, depicts real historical figures and actual events narrated woven together with fictitious allegations and using the storytelling techniques of fiction. The non-fiction novel is an otherwise loosely-defined and flexible genre...
." At least 20 films and television dramas have been produced from Capote novels, stories and screenplays.
Capote rose above a childhood troubled by divorce, a long absence from his mother and multiple migrations.
It seemed odd to Joel that nature did not reflect so solemn an event: flowers of cotton-boll clouds within a sky as scandalously blue as kitten-eyes were offensive to their sweet disrespect.

At Jesus Fever's funeral
A resident of over a hundred years in so narrow a world deserved higher homage.

The brain may take advice, but not the heart, and love, having no geography, knows no boundaries.

Never trust a nigger: their minds and hair are full of kinks in equal measure.

Miss Amy
She beckoned to him, shining and silver, and he knew he must go: unafraid, not hesitating, he paused only at the garden's edge, as though he'd forgotten something, he stopped and looked back at the bloomless, descending blue, at the boy he had left behind.

But my dear, so few things are fulfilled: what are most lives but a series of incomplete episodes

Randolf