 Trinity Church (Munich)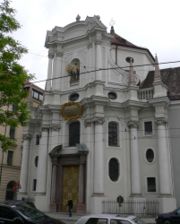 The
Trinity Church
is a religious building in
Munich
Munich
Munich The city's motto is "" . Before 2006, it was "Weltstadt mit Herz" . Its native name, , is derived from the Old High German Munichen, meaning "by the monks' place". The city's name derives from the monks of the Benedictine order who founded the city; hence the monk depicted on the city's coat...
, southern Germany. It is a votive church and was designed in Bavarian Baroque style according to plans from
Giovanni Antonio Viscardi
Giovanni Antonio Viscardi
Giovanni Antonio Viscardi was a Swiss architect of the baroque, who worked mostly in Bavaria....
from 1711 to 1718. It is a monastery church of the
Carmelites
Carmelites
The Order of the Brothers of Our Lady of Mount Carmel or Carmelites is a Catholic religious order perhaps founded in the 12th century on Mount Carmel, hence its name. However, historical records about its origin remain uncertain...
and a church of the Metropolitan parish of Our Blessed Lady. During the Second World War this was the only church in the center of Munich, which had been spared from destruction by bombs.
A pledge was kept (due to the prophecy of Anna Maria Lindmayr); people hoped to be spared by the Austrians during the
Spanish Succession war
War of the Spanish Succession
The War of the Spanish Succession was fought among several European powers, including a divided Spain, over the possible unification of the Kingdoms of Spain and France under one Bourbon monarch. As France and Spain were among the most powerful states of Europe, such a unification would have...
. Important works by
Cosmas Damian Asam
Cosmas Damian Asam
Cosmas Damian Asam was a German painter and architect during the late Baroque period. Born in Benediktbeuern, he moved to Rome in 1711 to study at the Accademia di San Luca with Carlo Maratta. There, he could see the fresco Ascensione di Cristo by Melozzo da Forlì in Santi Apostoli Church...
(ceiling paintings), Joseph Ruffini, Andreas Faistenberger,
Johann Baptist Straub
Johann Baptist Straub
Johann Baptist Straub was a German Rococo sculptor.-Biography:Straub was born in Wiesensteig, into a family of sculptors. His father Johann George Straub and his brothers Philipp Jakob, Joseph, and Johann Georg Straub were also sculptors, as was his nephew Franz Xaver Messerschmidt. J. B...
and Johann Georg Baader can be admired inside.
The patronal feast is All Saints Holy Trinity (the Sunday after Whitsun).
External links