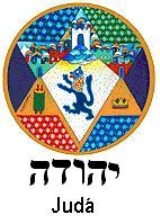 Tribe of Judah
According to the
Hebrew Bible
Hebrew Bible
The Hebrew Bible is a term used by biblical scholars outside of Judaism to refer to the Tanakh , a canonical collection of Jewish texts, and the common textual antecedent of the several canonical editions of the Christian Old Testament...
, the
Tribe of Judah
was one of the Tribes of Israel.
Following the completion of the conquest of
Canaan
Canaan
Canaan is a historical region roughly corresponding to modern-day Israel, Palestine, Lebanon, and the western parts of Jordan...
by the
Israelite
Israelite
According to the Bible the Israelites were a Hebrew-speaking people of the Ancient Near East who inhabited the Land of Canaan during the monarchic period .The word "Israelite" derives from the Biblical Hebrew ישראל...
tribes after about 1200 BCE,
Joshua
Joshua
Joshua , is a minor figure in the Torah, being one of the spies for Israel and in few passages as Moses's assistant. He turns to be the central character in the Hebrew Bible's Book of Joshua...
allocated the land among the twelve tribes.
From after the conquest of the land by Joshua until the formation of the first Kingdom of Israel in c. 1050 BCE, the Tribe of Judah was a part of a loose confederation of Israelite tribes.